Object Co., Ltd. Voice actor e-Sports department 2023 real event 3rd "Off Sesupo Vol.3" will be held! Yuri na Uchiyama, Hazuki Ogino, Yuri Matsuoka, and Yuki Tsurumi gather offline!
Object Inc.
Voice actor e-Sports club 2023 real event 3rd "Off Sesupo Vol.3" will be held! Yurina Uchiyama, Hazuki Ogino, Yuri Matsuoka, and Yuki Tsurumi gather offline!
……………………………………………………………………………………………
The 3rd real event of the "Voice Actor e-Sports Club", a project in which a total of 29 serious gamer voice actors support the game industry / e-sports, will be held on Saturday, October 21st at Tokyo Cool Japan, a vocational school. held!
[Image 1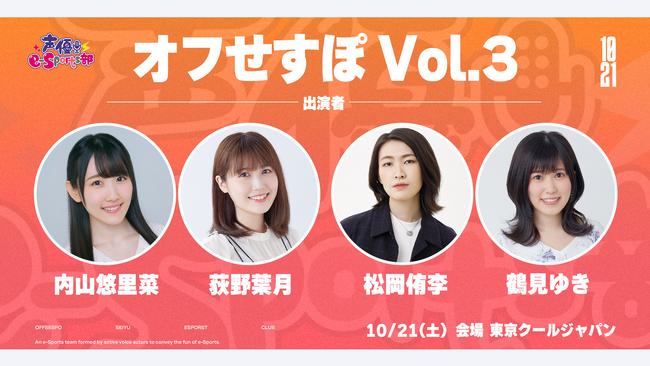 What is "Off Sesupo" … "Sesupo" * The meaning of the offline event of the abbreviation (sespo) of the voice actor e-Sports department The event held in April/July was very well received as "it was a rich event", and the 3rd time will be held with freshness as all 4 members will appear for the first time off Sesupo.
Yurina Uchiyama, Hazuki Ogino, Yuri Matsuoka, and Yuki Tsurumi are the performers who spend the "relaxed feeling" with the visitors. MC is a familiar adviser: Naoki Yoshimura.
On the day of the event, there will be a very popular "participation game" that has been distributed so far.
In addition, at the end of the second part, we will hold a "handover party" where you can meet everyone at once, which is possible only because it is offline!
It is an event with higher significance to gather off.
■Performance overview
〇Voice Actor e-Sports Club "Off Sesupo Vol.3"
Date: Saturday, October 21, 2023
Part 1 OPEN 12:30 START 13:00 / Part 2 OPEN 15:30 START 16:00 Venue: Tokyo Cool Japan College (1-8-17 Sendagaya, Shibuya-ku, Tokyo 151-0051) Performers: Yurina Uchiyama, Hazuki Ogino, Yuri Matsuoka, Yuki Tsurumi (MC) Naoki Yoshimura
Admission fee (tax included): All unreserved seats/¥5,000 (with reference numbers/entrance in order of reference numbers)
■ Precautions
・Performers are subject to change without notice.
・We cannot accept refunds other than cancellations or postponements of performances. Please note.
・No entry for preschoolers
■ Ticket reception
Fastest pre-order August 30, 2023 (Wednesday) 12:00 to September 10 (Sunday) 23:59
https://eplus.jp/off-sespo/
[Image 2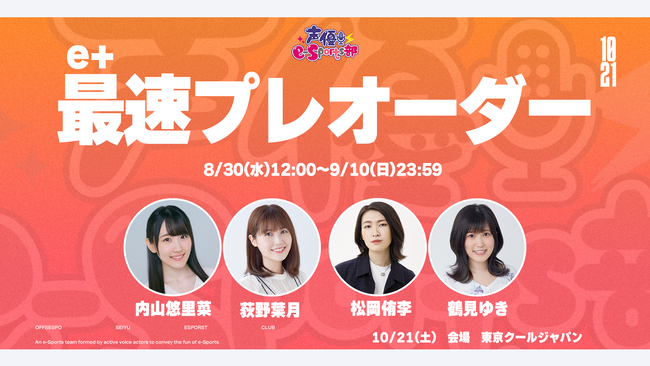 [Project concept of voice actor e-Sports department]
[Image 3

29 people, alphabetical order
Operated by Object, which develops production business, sound production, event / program production, casting business, etc. Enjoy various games with voice actors! The concept is club activities that share the fun with fans and spread it.
As of 2023, it is an e-sports support project that is active with a total of 29 people, with the intention of "fun!"
Stay active! Aiming to contribute to the excitement of "events all over the country" and "offline events" by working energetically, we will conduct online distribution activities mainly on YouTube. In addition, the delivery style is very popular not only for "viewers are fun!" but also for "participating as a player".
In other words, "fan participation type game play" is very popular! The time spent working together as "gaming friends who like the same game" is a stimulating time for both players and viewers.
As a result, we are developing with enthusiasm to expand the game population and excite the game industry!
[Official site/Related sites]
URL: https://seiyu-esports.jp/
Twitter: https://twitter.com/seiyu_esports
YouTube: https://www.youtube.com/@seiyu-esports
Twitch: https://www.twitch.tv/seiyuesports
Tiktok: https://www.tiktok.com/@seiyu_esports
~ Membership Details ~
Divided into "cheering team members" and "members"
You can enjoy using stamps designed by the voice actors themselves, watching members-only distribution, and member-only articles (off-shots, etc.)!
In addition, club members can use a limited community, find friends to play with, and be active as a player when distributing participatory games! It is possible to bring changes to your game life!
https://www.youtube.com/channel/UCmOPWIJ424XesMYcmahUTEQ/join ◆ Activities so far (partial)
October 2019 Project started with 2 members (Kaori Maeda and Oto Tanaka) November 2019 Independent fan event held Playing the PC version of "PUBG" May 2020 New member 2nd generation joins & YouTube starts!
March 2021 Aiming for further development, the 3rd generation members will join! May 2021 Official website open
October 2022 New member 4th generation joins!
July 2023 New member "Hoshiki Naruse" joins!
[Existing members]
1st gen / Kaori Maeda (director), Oto Tanaka (deputy director) 2nd generation / Kaede Okutani, Konami Saito, Yuki Tsurumi, Maki Hanatani 3rd generation / Honoka Kuroki, Natsumi Murakami, Yurina Uchiyama, Mari Takahashi
4th gen / Maruka Asahina, Chii Sakurasaki, Hazuki Ogino, Yuki Kaneko, Mayu Sagara, Rena Sakitani
Saishin Shimabara, Nao Shiraki, Eri Suzuki, Ami Tsukishiro, Hika Tsukishiro, Sanae Fuku
Kana Hoshi, Saya Horikago, Yuri Matsuoka, Mekumi Matsumura, Ayane Matsumoto, Saku Mizuno, Yuki Yato
Sponsorship/Planning/Production: Object
Details about this release:
https://prtimes.jp/main/html/rd/p/000000003.000057178.html

MAIL:cr@prtimes.co.jp
Copyright (c) PR TIMES Corporation.