Arma bianca Co., Ltd. DECO*27 x Takuya Yamanaka's "MILGRAM", Amane (CV: Minami Tanaka)'s second instance CD will be released. Jacket & bonus images released at the same time
arma bianca Inc.
DECO*27 x Takuya Yamanaka's "MILGRAM", Amane's (CV: Minami Tanaka) second trial CD release has been decided. Jacket & bonus images released at the same time
DECO*27 x Takuya Yamanaka's "MILGRAM", Amane's (CV: Minami Tanaka) second trial CD release has been decided. Jacket & bonus images released at the same time
……………………………………………………………………………………………
DECO*27 x Takuya Yamanaka's "MILGRAM", Amane (CV: Minami Tanaka)'s second trial CD release has been decided. At the same time, the jacket and bonus images have also been released for the first time. Audience-participation music project "MILGRAM" by DECO*27 x OTOIRO x Takuya Yamanaka, with over 40 million views.
Amane (CV: Minami Tanaka)'s second trial CD "Purge March" will be released. Along with the release, the track list recorded on the CD has also been released.
Continuing from the first trial single, DECO*27's song cover "Animal", An original voice drama written by the original author Takuya Yamanaka will be recorded at the same time.
In addition, the CD jacket has also been released.
[Image 1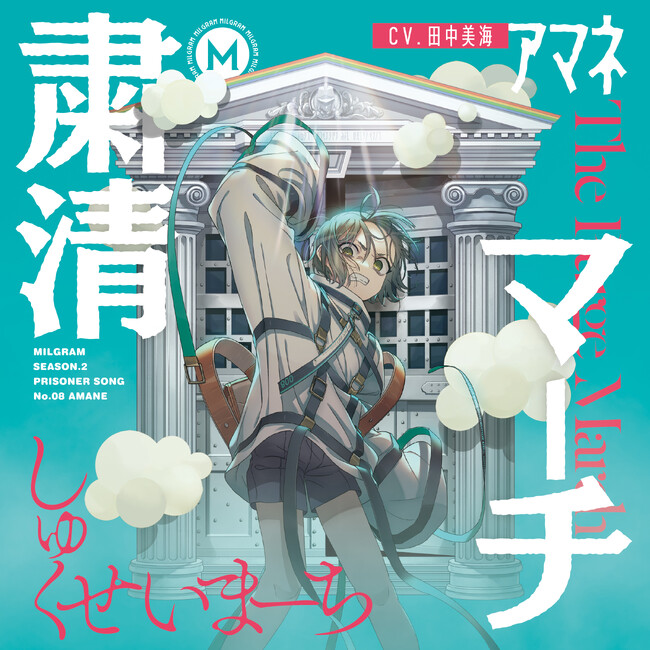 * The product image is an image, and the design may change. Please note. The jacket of this work is a newly drawn illustration by akka, who handles the character design of MILGRAM.
Please pay attention to the jacket illustration with a different expression from the first trial.
In addition, a bonus image using the jacket has also been released. Please buy it at this opportunity.
【release information】
Amane (CV: Minami Tanaka) "Purge March"
Release date: Wednesday, August 30, 2023
Price: 2,000 yen (tax included)
Product number: ARMA-0008
Specifications: 1 CD
Track list:
01. Purge March
02. Purge March (Instrumental)
03. Animal -Amane Cover-
04. Animal -Amane Cover- (Instrumental)
05. Happiness and Revenge -Voice Drama- Amane (CV: Miumi Tanaka) & S (CV: Yurina Amami)
[Benefits by store]
Milgram Official Purchase: Jacket Square Can Badge
[Image 2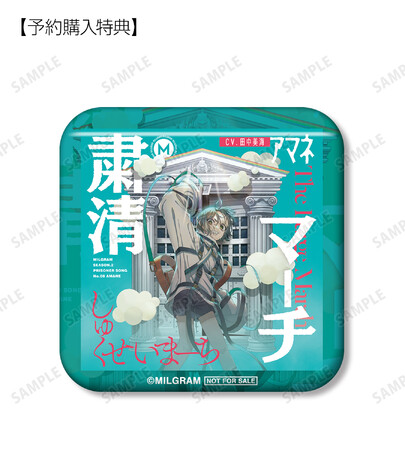 Animate: Jacket Bromide
[Image 3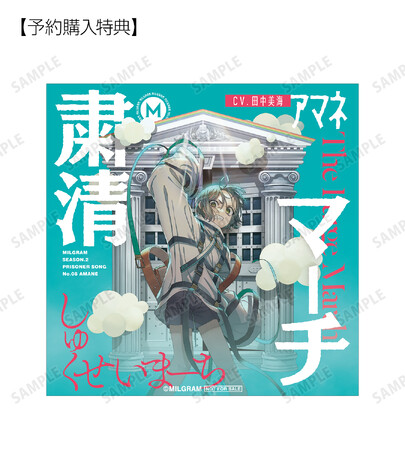 amazon: mega jacket
*Please note that it will end as soon as it runs out.
[Purchase site]
-Milgram official purchase place-
https://amnibus.com/products/detail/47027
-Animate-
https://www.animate-onlineshop.jp/
-amazon-
https://www.amazon.co.jp/
[Release / Distributor]
arma bianca Inc.
Please continue to look forward to the second trial of the audience participation music project "MILGRAM".
[Inquiries regarding this press release]
arma bianca Inc.
Address: Kawamoto Building, 2-3-13 Yayoicho, Nakano-ku, Tokyo 164-0013 Contact form: https://armabianca.com/contact
Person in charge: Naoki Saito
Mail: pr@armabianca.com

Published by arma bianca Inc.
Web http://armabianca.com/

(C) Milgram Board of Trustees
Details about this release:
https://prtimes.jp/main/html/rd/p/000005217.000016064.html

MAIL:cr@prtimes.co.jp
Copyright (c) PR TIMES Corporation.