Scholarship The 3rd series of "Leader's Mask" and "Demon of Quantification", which has sold over 700,000 copies, will be sold on May 31 (Wednesday).
knowledge
Over 700,000 copies of "Leader's Mask" and "Demon of Digitization" Series 3rd "Anyway Mechanized" will be sold on May 31 (Wednesday) ……………………………………………………………………………………………
Shigaku Co., Ltd. (Headquarters: Shinagawa-ku, Tokyo; President: Koudai Ando), which develops an organizational consulting business, has published a book by President Koudai Ando, ​​"Anyway
Systematizing: A Way of Thinking to Continue to Stand Above People". We would like to inform you that Diamondsha Co., Ltd. (Headquarters: Diamond Building, 6-12-17 Jingumae, Shibuya-ku) will publish it on Wednesday, May 31st.
[Image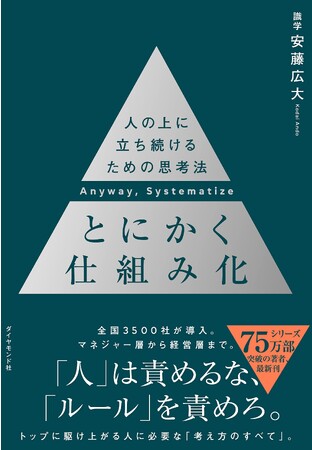 "At any rate, systematization" is to eliminate individuality based on the premise of weak gender theory. When failures occur or the company's goals are not achieved, we will return to the habit of "just systematize" and teach you how to solve problems by rules.
table of contents
Introduction — A way of thinking to keep standing above people What Happens "When People Move"
Misunderstanding of the word "gear"
Breaking down the "old system" with the "new system"
Are you disrespecting the "manual"?
Mechanism for Developing People Who Can Contribute
Desire to be irreplaceable
Always on the premise of "gender weak theory"
Become a "person who changes the organization"
Prologue: Why "Anyway Systematized"?
Don't blame the "individual", blame the "system"
The only characteristic of "a team without a system"
There is nothing scarier than "personalization"
Five Ways of Thinking for "Anyway, Systematization"
Chapter 1 Draw the Line Correctly — "Responsibility and Authority" People who have stopped "making their own decisions"
Do "draw a line". line can be rewritten
If you return to the system, you can do more and more "new things" People become leaders with a sense of responsibility
"Opportunity" comes before "ability"
Chapter 2 A scary person in the truest sense — "sense of crisis" What is the essence of "the person you want to follow"?
Wrong "Fear" and Wrong "Kindness"
Create a system that creates a sense of crisis
"Yurusa" is a new black company
What awaits beyond the sense of crisis
Chapter 3 Admitting Loss — "Comparison and Equality"
Anyway, everyone is comparing each other "inside their hearts" The Meaning of Prioritizing the "Benefit of the Whole"
"There is a difference" is only an advantage
What "relegation personnel" really wants
Create a mechanism to maintain "equality"
Chapter 4 God's Invisible Hand — "Corporate Philosophy"
Keep track of where you are going
The "embarrassment" of setting goals
Working with "God's Invisible Hand"
Can you describe your company's corporate philosophy?
What kind of existence is a "company without a philosophy"?
"I want to achieve" cannot be systematized
Chapter 5 Achieving Greater Things — "Sense of Progress"
Why I Didn't Talk About "Corporate Philosophy" First
What do you mean by "company change"?
Antithesis to the "Individual Age"
Try to have a sense of "progress"
We have no choice but to become a company that makes people think, "I want to stay here."
The final chapter Another world without "systematization"
You just have to have a place where you can return to being human In order not to create victims of "personalization"
To you who will become an "irreplaceable gear"
Please become a "reliable presence"
book outline
[Table 2: https://prtimes.jp/data/corp/29010/table/92_1_8f188d0e08886c8c2ca059a47047e7dc.jpg ]
Author profile
Kodai Ando
Shigaku Co., Ltd. Representative Director and President. Born in Osaka in 1979. After graduating from Waseda University in 2002, experienced NTT DoCoMo, J:COM Holdings, J:COM Director and Sales Headquarters. As a playing manager, he faced the problem of a team that does not grow, and when he was troubled, he encountered "science" and became independent in 2013. In 2015, he established Shigaku Co., Ltd., contributing to the performance improvement of many companies as a Shigaku lecturer. About 4 years after its establishment, it was listed on the stock exchange, and in the past 8 years, about 3,500 companies have introduced the science method. His books include "Leader's Mask" and "The Demon of Numericalization" (both published by Diamond Publishing), which have sold over 700,000 copies.
Amazon: https://www.amazon.co.jp/dp/4478117748/ref=emc_b_5_i 【Company Profile】
Company name: Shigaku Co., Ltd. (Tokyo Stock Exchange Growth listing code number: 7049)
Representative: Koudai Ando, ​​President and Representative Director Head office location: Osaki West City Building 1F, 2-9-3 Osaki, Shinagawa-ku, Tokyo
Year of establishment: March 2015
Number of employees: 230 (regular employees and contract employees only) *As of February 28, 2023
Business description: Organizational consulting business
Science HP: https://corp.shikigaku.jp/
Details about this release:
https://prtimes.jp/main/html/rd/p/000000092.000029010.html

MAIL:cr@prtimes.co.jp
Copyright (c) PR TIMES Corporation.