Techno Core Co., Ltd. Technology information site "Techno Edge" achieves 3 million CVs per month in 10 mon ths from opening
Techno Core Co., Ltd.
Technology information site "Techno Edge" achieves 3 million monthly CVs in 10 months from opening
……………………………………………………………………………………………
Technocore Co., Ltd. (Headquarters: Taito-ku, Tokyo; Representative Director: Hajime Takagi; hereafter: Technocore) has announced the technology information site "TechnoEdge" (Editor: Ittousai,
https://www.techno-edge) operated by the company. .net/), we are pleased to announce that the number of content views (CV) in April 2023 has exceeded 3 million. Thanks to the support of our users, this has been achieved in 10 months since its opening in June 2022. [Image 1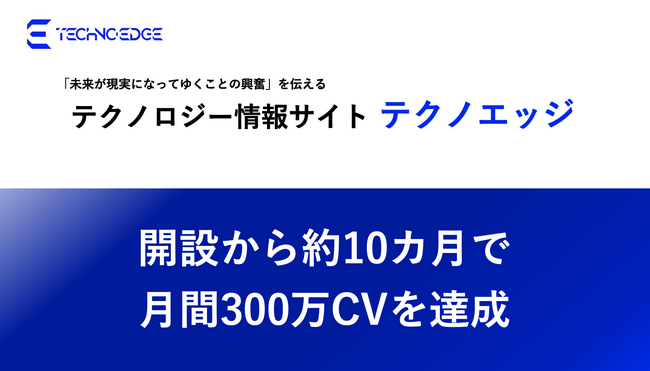 Achieved 3 million CV in 10 months
Techno Edge has achieved 3,453,604 CV [*1] in about 10 months since its launch. By linking with content distribution media (SmartNews, LINE NEWS, Noah Dot, Gunosy, etc.), we are able to transmit
information to many readers. In the future, we will not only expand the content on the web page, but also strengthen measures to expand the world of Techno Edge, such as offline events.
[*1] CV stands for Content View. In addition to the techno-edge.net domain, it is the total number of views on various distribution sites. Comment from Editor-in-chief Ittousai
Even though we started from scratch as a tech media originating in Japan, thanks to everyone's tremendous support, we have become a medium that connects to many people.
We are preparing various developments in the future so that we can be useful to everyone who is interested in the intersection of technology and society, the edge of the future and reality. Please stay tuned. "Techno Edge" 10 Recommended Articles
With AI and spells, I fabricated a new photo of my wife who I can't see anymore (Kimiya Matsuo)
https://www.techno-edge.net/article/2022/12/17/634.html
Received the "Internet Media Awards 2023" media innovation category, which received a great social response by conveying the relationship between remembrance and the latest AI technology from the standpoint of the person concerned
It doesn't matter who draws AI or humans. What 852, the artist who publishes Japan's first AI art book (paper), thinks
https://www.techno-edge.net/article/2022/09/22/308.html
An interview with a leading expert on the creative industry that is changing with generative AI
OpenAI GPT-4 official announcement, achievement of "human surpassing" in many tests. Dramatic evolution of generative AI models such as multimodalization that also understands images
https://www.techno-edge.net/article/2023/03/15/1015.html
We also follow the latest trends in AI technology such as ChatGPT It's not just the Pixel Fold and the Galaxy Z Fold. Check overseas folding smartphones at once
https://www.techno-edge.net/article/2023/05/15/1287.html
The latest circumstances of consumer technology such as foldables that are becoming commonplace
21 new iPhone emojis: trembling face, light blue heart, jellyfish and more. Support for Emoji 15.0 in iOS 16.4 beta ������
https://www.techno-edge.net/article/2023/02/28/937.html
It is read by a very wide range of people via article distribution destinations and searches
PlayStation VR2 review
https://www.techno-edge.net/article/2023/02/17/883.html
Treat VR/AR and gaming devices as the edge of ever-evolving technology Destroyed Ukrainian giant transport aircraft An-225 Mriya, flying again in MS flight simulator. All sales will be donated to
reconstruction
https://www.techno-edge.net/article/2023/02/28/940.html
Intersection of Metaverse, Digital Twin, Tech Heritage Conservation, and Gaming "Cyberpunk Edgerunners" interview with Trigger Usa Yoshihiro Producer https://www.techno-edge.net/article/2022/12/23/656.html
"Edge connection" collaboration project. Entertainment from the perspective of cultural acceptance of technology
Let's talk about minor CPUs that have disappeared without anyone knowing: Fairchild F8 and Mostek MK3870 made by the "father of Silicon Valley"
https://www.techno-edge.net/article/2023/04/10/1135.html
Learning from the past. It also provides a relative perspective on the present knowing the history
Twitter's Elon Musk abuses employees with intractable diseases for dismissal. Apologize after realizing the obligation to pay
https://www.techno-edge.net/article/2023/03/09/987.html
We will also explain rapidly changing social media and internet culture trends. What is "Techno Edge"? https://www.techno-edge.net/
[Image 2

A technology information site operated by Technocore. We aim to be a media that conveys the surprise and excitement of realizing a future that we once dreamed of, or that we never even dreamed of, becoming a reality.
News, reviews, and expert columns on digital products from
smartphones, wearables, home appliances to gaming, and new
technologies in fields such as AI, XR, robotics, and mobility. While dealing with digital products as a "purchasable future", we are not limited to "gadgets" as objects, but also pay attention to science, new technologies, services, applications and content as intersection points between technology and society.
Techno Core Co., Ltd. Company Profile
Company name: Technocore Co., Ltd.
Location: Kaminarimon Mihama Building 3F, 2-6-1 Kaminarimon, Taito-ku, Tokyo Established: May 9, 2022
Representative: Hajime Takagi
Business: Media
Details about this release:
https://prtimes.jp/main/html/rd/p/000000007.000106723.html

MAIL:cr@prtimes.co.jp
Copyright (c) PR TIMES Corporation.