The final 7 volumes of the drama CD "Remnant -Jyuujin Omegaverse-", a blockbuster BL work that has sold over 1.55 million copies in the series, and the latest series of comics "Kadoru -Jyuujin Omegaverse-" Volume 1 will be released on September 22nd
Animate Holdings Co., Ltd.
The final 7 volumes of the drama CD "Remnant -Jyuujin Omegaverse-", a blockbuster BL work that has sold over 1.55 million copies in the series, and the latest series of comics "Kadoru -Jyuujin Omegaverse-" Volume 1 will be released on September 22nd (Friday) at the same time. Decision!
……………………………………………………………………………………………
We will deliver new information from Frontier Works Co., Ltd. (Animate Group)! [Image 1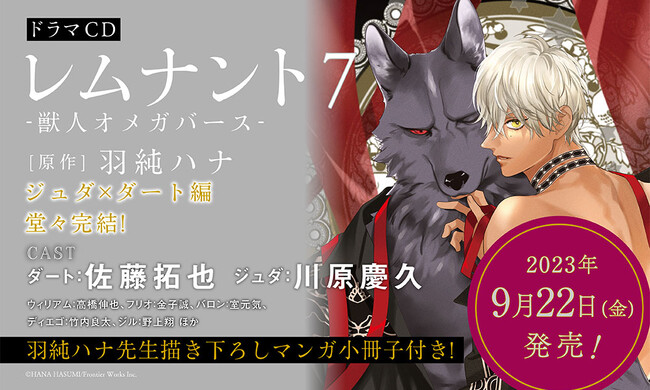 [Image 2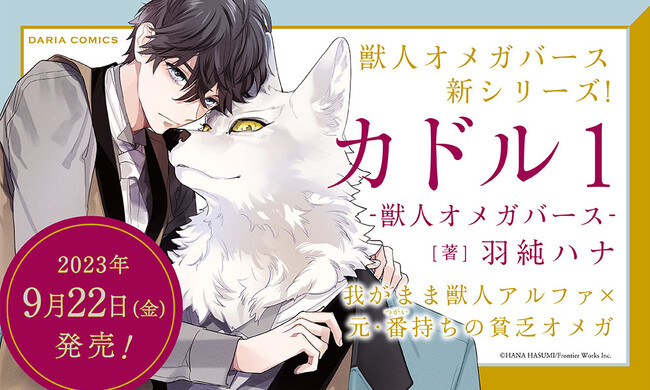 From the popular BL work "Beast Man Omegaverse", which has exceeded 1.55 million copies in the series,
The latest drama CD volume and the latest series of comics will be released! ★Drama CD "Remnant 7 -Jujin Omegaverse-"
Judah x Dirt Arc Complete!
In addition to 2 drama CDs, Hana Hazumi
A luxurious specification that includes a newly drawn manga booklet! ! [Image 3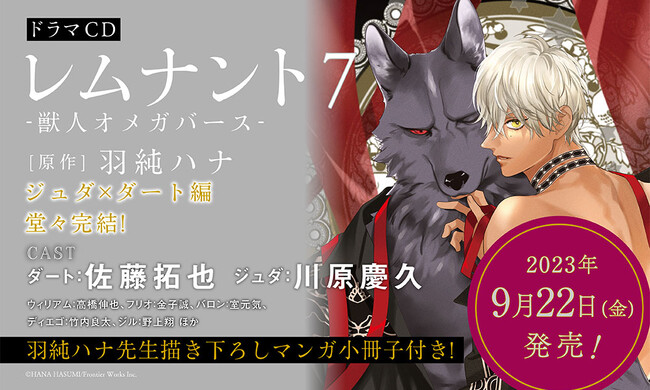 ★ Comics "Kador 1 -Jyuujin Omegaverse-"
The long-awaited new work in the Beastman Omegaverse series! The son of Judah and Dart, the selfish beast alpha Shire,
The story of Beryl, a poor Omega with a former pair.
[Image 4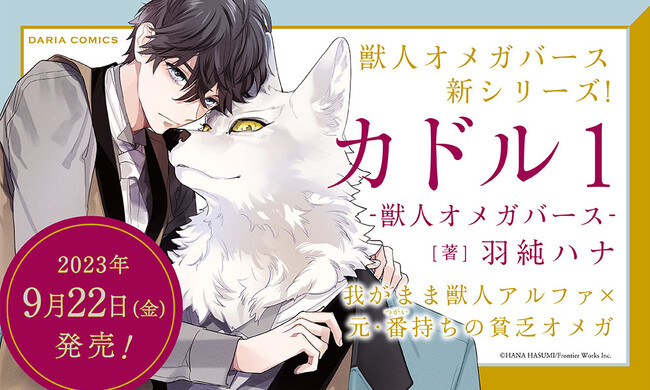 ★Drama CD & comics interlocking purchase privilege!
Purchase the following at Animate and receive a newly drawn manga leaflet! A [Campaign receipt 1. (for drama CD)]
・ Drama CD "Remnant 7 -Jyuujin Omegaverse-"
B [Campaign receipt 2. (for comics)]
・ Comics "Kador 1 -Beastman Omegaverse-"
Product information
Drama CD: "Remnant 7-Beastman Omegaverse-"
[Original] Hazumi Hana
[Release date] Friday, September 22, 2023
[Price] 4,950 yen (tax included)
[Cast] Takuya Sato, Yoshihisa Kawahara, Shinya Takahashi, Makoto Kaneko, Genki Muro, Ryota Takeuchi, Sho Nogami and others
[Specifications] 2 CDs + newly drawn manga booklet
[Distributor/Distributor] Frontier Works
[Product number] FFCL-0083
〇 Bonus information
[Image 5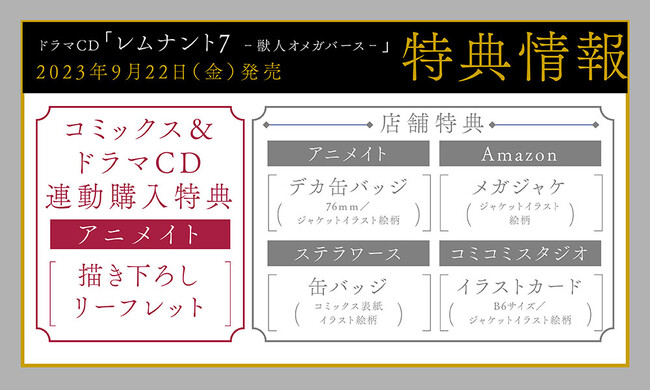 ■ Animate: Big can badge (76mm/jacket illustration pattern)
■ Amazon: Mega jacket (jacket illustration pattern)
■ Stella Worth: Can Badge (Comic Volume 7 cover illustration pattern) ■Comicomi Studio: Illustration card (B6 size/jacket illustration pattern) – Comics: [Cador 1 -Beastman Omegaverse-]
[Author] Hazumi Hana
[Release date] Friday, September 22, 2023
[Price] 825 yen (tax included)
[Format] B6 size
[Label] Dahlia Comics
[Issue] Frontier Works
〇 Bonus information
[Image 6

-Paid benefits-
■ Animate: Newly drawn booklet
■ TORICO: Acrylic key chain
-Store benefits-
 Comicomi Studio: Newly drawn leaflet
■Toranoana: newly drawn leaflet
■ General stores (partial): Newly drawn paper
■Electronic bonus: 1P manga drawn
■ Seymour bonus: newly drawn 1P manga
*The distribution date of the e-book will be announced at a later date. * The benefits will end as soon as they run out.
*Please contact each store for details such as availability of benefits. (C) HANA HASUMI/Frontier Works Inc.
Details about this release:
https://prtimes.jp/main/html/rd/p/000004343.000016756.html

MAIL:cr@prtimes.co.jp
Copyright (c) PR TIMES Corporation.