Tokuma Shoten Co., Ltd. A family essay "Shizuo-san and I", which humorously spells out two households with Mr. Knights Hanawa's unique father-in-law, will be released on Wednesday, May 31.
Tokuma Bookstore
Mr. Hanawa's family essay "Shizuo-san and I", which humorously spells out the two-family life with his unique father-in-law, will be released on May 31 (Wednesday).
Michiko Shimizu is also a big fan of "Shizuo"!
……………………………………………………………………………………………
Tokuma Shoten Co., Ltd. (Headquarters: Kamiosaki, Shinagawa-ku, Tokyo; President: Hideyuki Komiya) tells the story of Nobuyuki Hanawa of the comedy duo "Knights" living in two households with his slightly unusual father-in-law "Shizuo". The essay "Shizuo-san and I" will be released on May 31st (Wednesday).
[Image 1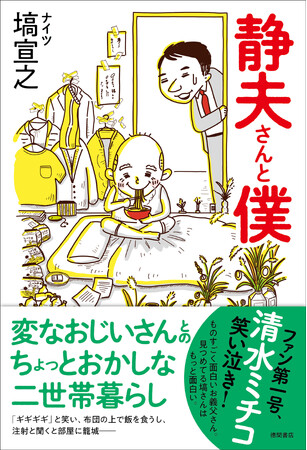 "Shizuo-san and I" by Nobuyuki Hanawa (Tokuma Shoten)
"Shizuo-san and I" by Nobuyuki Hanawa (Tokuma Shoten)
https://www.tokuma.jp/book/b627104.html
Shizuo, the father-in-law who lives with Nobuyuki Hanawa of the comedy duo "Knights".
"The laughter is 'gi-gi-gi-gi'", "I eat rice on the futon", "When I hear an injection, I shut myself up in my room", etc. The existence that emits too unique personality is the radio program "Fumio Takada's Radio Beverly" starring Knights. Hiruzu (Thursday charge)" (Nippon Broadcasting), "Knights the Radio Show" (Nippon Broadcasting), "Saturday Wide Radio TOKYO Knights' Chakachaki Daiburo" (TBS Radio), etc. It's a beloved presence that makes you laugh just by hearing it. This book is a book featuring Shizuo. From Mr. Hanawa's unique point of view, Shizuo, who has changed but can't be hated, is drawn in a lovely and charming way.
In addition to enjoying it as an essay, you can feel Mr. Hanawa's way of dealing with the problems that can occur in an aging society, such as living with parents and dealing with in-laws, which everyone raises their heads.
In addition, Michiko Shimizu, Shizuo's number one fan, has also given her stamp of approval that this book is "interesting!"
It's a heartwarming family essay that makes you smile and touch your heart. Author's comment (from "Introduction" of this book)
[Image 2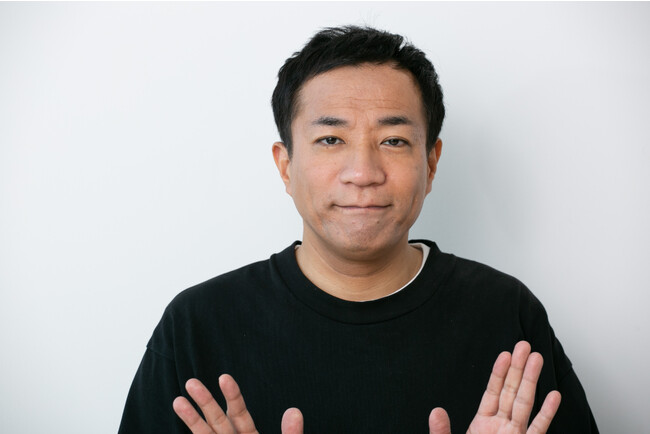 "The majority of fathers in the world may be causing trouble for their relatives and those around them." But in the end, it must be loved. I would be happy if the many sons and daughters who were amazed at such a father and smiled wryly could sympathize with it and feel a little more heartwarming.
It would be great if, through Shizuo-san, each of you could remember, "My father had a hard time, too," and smile.
Shizuo is this kind of person
Born in 1945 (Showa 20), 77 years old from Amami.
For many years, he was an instructor at a driving school in Tokyo and a taxi driver. However, a few years ago, he had a stroke, had bad legs and suffered from diabetes, and is now slowly retiring.
●Mr. Hanawa is called "Nobutan" ●Throughout the four seasons, he wears underwear at home. The standard is running in the crotch.
●Personality is stubborn. And persistent  I wake up early in the morning before the sun rises, so no one knows when I'm asleep ●He loves nature, picks wild grasses, brings them into his home, and decorates them. And let it dry well.
● "Thank you!" and "I'm so happy!" are his favorite phrases ● Various wildflowers will be used to "magically remodel" the bathroom ● Dissipate the pain of rheumatoid arthritis by letting out a death scream ● Hate injections
● Ruthlessly pouring water on Mr. Hanawa's beloved Mini Cooper ● Naming his three daughters after beautiful people whom he had a one-sided admiration for
●Take care of those in need! His motto is Freedom in his actions and words, but his deep affection for his family remains unwavering. ● Loves to think about and learn about science ● Sapporo's best soy sauce-flavored bag noodles
● Unusual Mayor ● Akira Kobayashi's "Hokukikou" is a favorite song ● Anti-disposalism
Message from Michiko Shimizu (from Obi comment)
[Image 3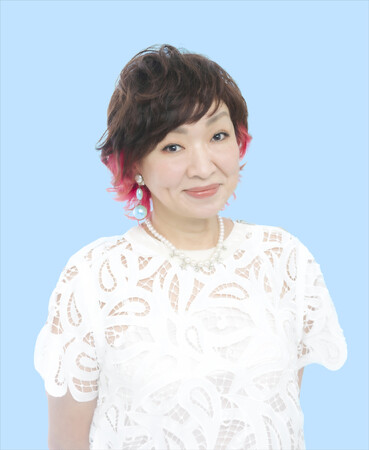 A very funny dad. Mr. Hanawa staring is even more interesting.
Structure of this manual (table of contents)
Introduction
Chapter 1 Shizuo-san and I
[Image 4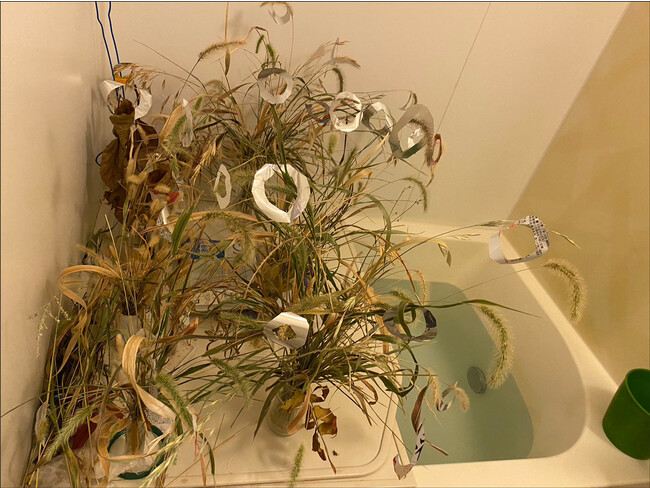 The bathroom remodeled by Shizuo
Shizuo is a galley in a galley
jungle bath
Scream away the pain of the old body
sleepless old man
Don't give me an injection!
I dare to listen to it on CD
Do not pour water on your car!
Chapter 2 Shizuo-san and the Past
A name given out of youth
[Image 5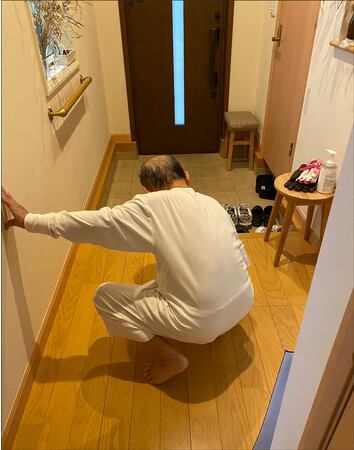 Shizuo-san we meet at the front door late at night *This is a black and white image
A fateful encounter at the hospital
The unsung hero of our family
a piece of fried tofu
There is no choice but to be together with contradictions and love and hate Chapter 3 Living with Shizuo
self-closing shutter
A story of space and life that can be told forever
picky eater's table
Facial bloody beauty care
glass vase
[Image 6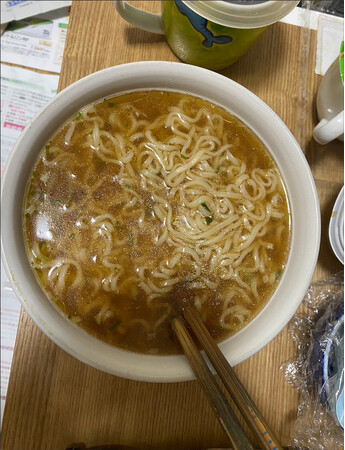 Shizuo's favorite food "Sapporo Ichiban" soy sauce flavored bag noodles anti-distractionism
extraordinary powers of observation
irresistible DNA
The greatest filial piety in my opinion
in conclusion
Bibliographic information
[Image 7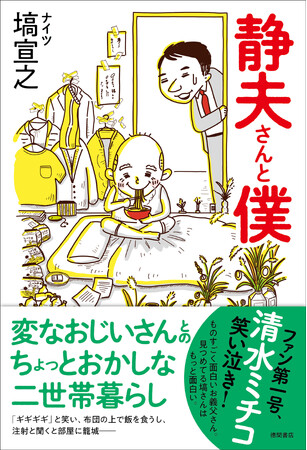 "Shizuo-san and I" by Nobuyuki Hanawa (Tokuma Shoten)
Mr. Shizuo and I
[Author] Nobuyuki Hanawa
[Release date] Wednesday, May 31, 2023
[Regular price] 1,760 yen (10% tax included)
[Format/specifications] 46 size soft cover
[Published by] Tokuma Shoten Co., Ltd.
[Product URL]
https://www.tokuma.jp/book/b627104.html
https://www.amazon.co.jp/dp/4198656355
Author profile
[Image 8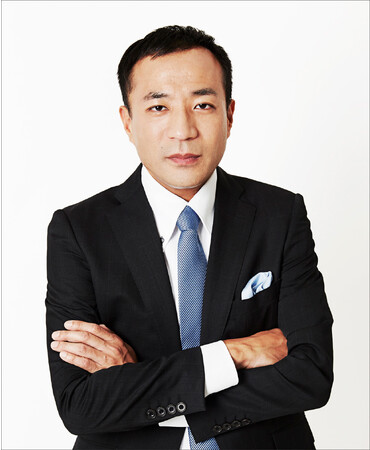 Nobuyuki Hanawa
Entertainer. Born in Chiba Prefecture in 1978. Vice President of the Manzai Association.
In 2000, he formed the comedy duo "Knights" with Nobuyuki Tsuchiya. Since 2008, he has advanced to the M-1 Grand Prix final for three consecutive years.
2011 THE MANZAl 2011 Runner-up, 2013 Agency for Cultural Affairs Art Festival Popular Performing Arts Category Excellence Award, 2016 Art Encouragement Popular Performing Arts Category Minister of Education, Culture, Sports, Science and Technology Newcomer Award, 39th Asakusa Performing Arts Award, etc.
Author of "Excuse Why Kanto Entertainers Can't Win with M-1" (Shueisha Shinsho) "Extremely Private Professional Baseball Predilection Theory: The Happy Relationship Between Baseball and Manzai" (Baseball Magazine) "Complain, Listen. ] (left and right company) etc. Twitter https://twitter.com/hanawa_nobuyuki
YouTube https://www.youtube.com/channel/UCG4PIPvmm838XWIJgKFKisw Blog https://ameblo.jp/knights-hanawa/
Book release event 1.
"Shizuo-san and I" Release Commemoration, Autographed Book Handing Event -Date and Time- June 8, 2023 (Thursday) 17:15-
-Venue- Asakusa Toyokan (1-43-12 Asakusa, Taito-ku, Tokyo) In front of the Asakusa Rokku Police Box (Entrance next to the right side of Asakusa Engei Hall)
-Performer- Nobuyuki Hanawa (Knights)
-Participation conditions- Customers who have seen the "manzai grand march" held on the day and have purchased "Shizuo-san and me" at the Toyokan
https://www.asakusatoyokan.com/sp/timetable/new.php?detail_data=1437095594-183685 Book release event 2.
Knights Nobuyuki Hanawa's "Shizuo-san and I" (Tokuma Shoten) Release Commemorative Mini Talk & Autograph Session
-Date and time- June 20, 2023 (Sunday) 18:00 (doors open 17:45) ~ -Venue- Horindo Bookstore Takadanobaba 8F Event Hall (FI Building, 1-26-5 Takadanobaba, Shinjuku-ku, Tokyo)
-Performer- Nobuyuki Hanawa (Knights)
-Participation conditions- Participation tickets will be distributed to the first 100 customers who have reserved and purchased "Shizuo-san and I" (Tokuma Shoten) (1,760 yen including tax) at Horindo Bookstore Takadanobaba.
-Event Details- http://www.horindo.co.jp/t20230520/
-Inquiries- TEL: 03-3208-0241 (representative) / e-mail: baba@horindo.co.jp Contact information for media personnel regarding this matter [Tokuma Shoten PR Counter] C-Publishing Service Co., Ltd. Public Relations Department
Email: pr c-pub.co.jp (Please replace ★ with @ when sending) Details about this release:
https://prtimes.jp/main/html/rd/p/000000544.000016935.html

MAIL:cr@prtimes.co.jp
Copyright (c) PR TIMES Corporation.