Voltage Co., Ltd. Infinite love for the princess ~Escort to the expanding future~ 8th anniversary of the release of "Princess Love Palace in the mirror" Special projects such as a message movie and Mirapuri excursion tour will be held
Voltage Inc.
Infinite love for the princess ~Escort to the expanding future~ 8th anniversary of the release of "Princess Love Palace in the mirror" special projects such as a message movie and Mirapuri excursion tour ……………………………………………………………………………………………
[Image 1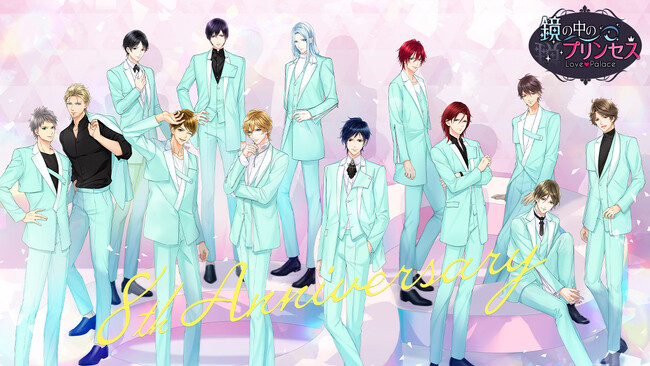 Voltage Co., Ltd. (Headquarters: Shibuya-ku, Tokyo, Representative Director: Yuji Tsuya) is pleased to announce that the currently available Vol Koi title "Princess Love Palace in the Mirror" celebrated its 8th anniversary on Friday, May 26th. i will let you know.
"Princess Love Palace in the Mirror" (hereinafter referred to as "Mirapri LP") is a gorgeous palace where you can enjoy a love romance that transcends time and space with nobles, knights, and servants living in the palace. Title. Since its release in 2015, it has received support for its solid story, charming characters, and beautiful illustrations, and this year marks its 8th anniversary. To express our gratitude to all the fans who have supported us, "MiraPuri LP" has prepared various projects that can be enjoyed inside and outside the app under the theme of "Infinite love for the princess ~Escort to the expanding future~". There are many items that can only be obtained at this opportunity, so please participate and enjoy the 8th anniversary of "MiraPuri LP".
"Mirapri LP" is getting more and more exciting as it celebrates its 8th anniversary. We will continue to deliver excitement to everyone with a love romance that transcends time and space.
"Kagagami no Naka no Princess Love Palace" Official Website: https://products.voltage.co.jp/mirror/
"Princess Love Palace in the Mirror" Official Twitter (@mirapuri_LP): https://twitter.com/mirapuri_lp
There are plenty of 8th anniversary projects!
Project 1.: Release of the 8th anniversary movie
[Image 2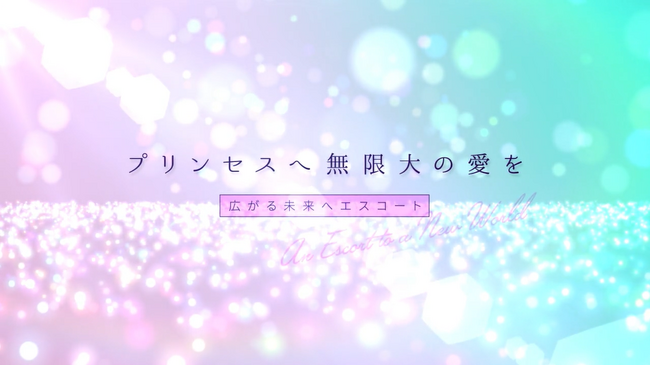 We are releasing a movie with a special message from him again this year. Please accept our feelings (Heart)
▼ "Princess Love Palace in the Mirror" 8th anniversary special movie https://youtu.be/h-SXhQ9heG8
Project 2.: 8th anniversary login bonus in progress
[Image 3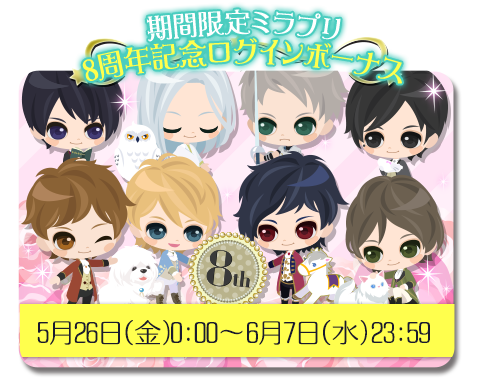 A login bonus commemorating the 8th anniversary of the app is being implemented. During the period, you will have a chance to get luxury items such as diamonds, love passes, stamina, and closets every day, so don't miss this opportunity!
[Campaign period]
May 26 (Friday) 00:00 to June 7 (Wednesday) 23:59
Plan 7.: Distribution of continuous events has been decided! [Image 4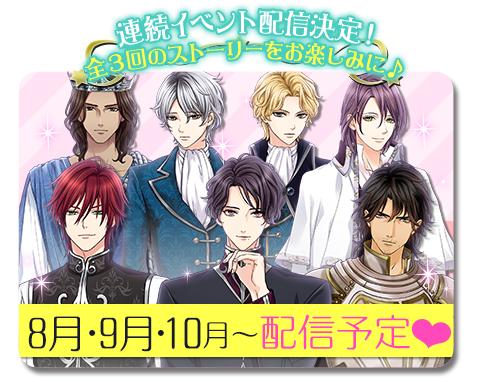 Delivery of events for 3 consecutive months from August has been decided! We are planning to distribute the route of Klaus, Ilias, Enrique, Lorenzo, Ludo, Wade, and Sacha, so please look forward to it★ [Event period]
Scheduled to be delivered in August/September/October
Project 8.: Distribution of Sasha's main story has been decided! [Image 5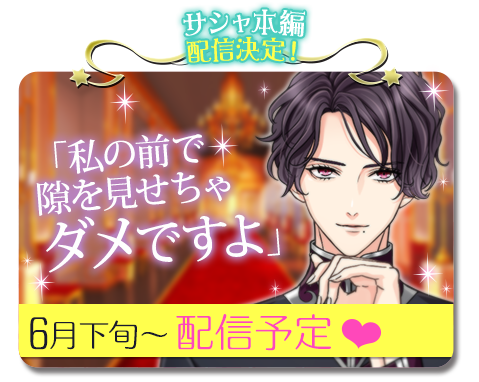 The main story of Sasha Flores, Prime Minister of the Aurorian Empire, has finally been decided! Delivery is scheduled for the end of June, so please look forward to it!
-Synopsis-
Sasha is there for you when you are lonely.
Behind that kindness, there is a certain purpose-
【delivery】
Scheduled for late June
Plan 9.: Dirk sequel distribution decision
[Image 6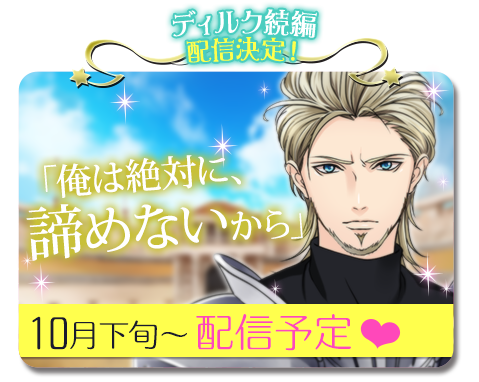 The sequel to Dirk Felzer, Vice Commander of the Knights of the Kingdom of Christen, will be delivered! Delivery is scheduled for late October, so please look forward to it (Heart)
-Synopsis-
Dirk and you are moving forward towards engagement.
Another trial comes before the two of them–
[Delivery time]
Scheduled for late October
8th Anniversary Twitter Campaign
[Image 7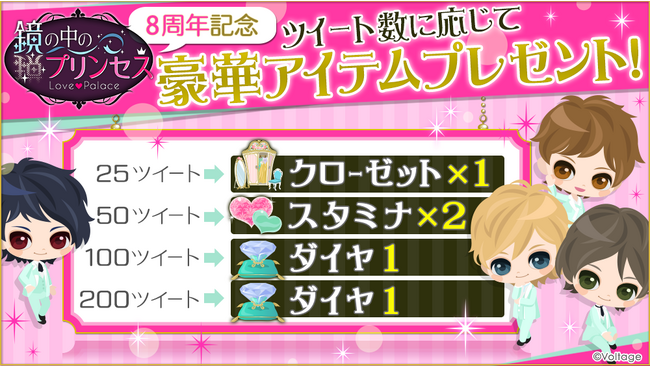 Let's tweet what you like about him with "#Mirapri 8th Anniversary"! In-app items will be presented according to the number of tweets during the period ♪
【Implementation period】
May 26th (Friday) 12:00 to June 7th (Wednesday) 23:59
Support campaign held on "VOLTAGE passport"
[Image 8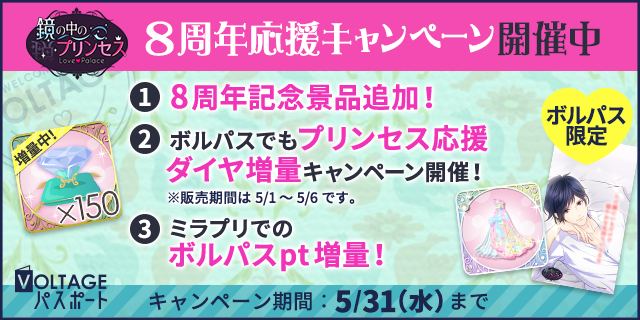 Accumulate daily heartbeat! On the free member point site "VOLTAGE Passport" (hereinafter "Volpas"), we are holding a support campaign such as increasing the amount of "MiraPuri LP" diamonds, adding 8th anniversary commemorative prizes, and increasing Volpas pt.
Take advantage of this opportunity to get diamonds and points and get prizes that can only be obtained here★
* Volpas pts can only be collected for use after cooperation. *If you do not have a Volpas account, please register.
VOLTAGE passport official website https://passports.voltage.co.jp/ Orders for Zell Rondo Dakimakura Covers have started!
[Image 9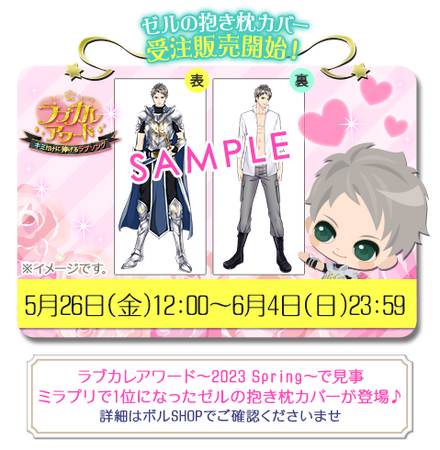 At the "Love Care Award 2023 Spring ~Love Song Dedicated To You Only~" held from April to May this year, the dakimakura cover of Zell Rondo, who won the 1st place (9th overall) among Mirapuri LPs. It will be sold by order only.
-Product Summary-
・Product Name: Zell (Heart) Dakimakura cover (whole body)
・Size: H1600mm x W470mm (whole body, front and back)
・Price: 9,900 yen (tax included)
-Order period-
May 26th (Friday) 12:00 to June 4th (Sunday) 23:59
*Delivery is scheduled for mid to late July 2023.
-Sales site-
Boru SHOP Official Online
https://volshop-officialonline.com/
Special goods of the top 10 characters are also scheduled to be sold [around the end of June], so please look forward to it☆彡
[What is the Love Care Award]
A voting event to determine the most popular character among handsome characters appearing in 8 story avatar type (social version) apps including Mirapuri LP. We offer different themes each time.
In addition to this, there are plenty of plans to enjoy the anniversary! Please continue to look forward to "MiraPuri LP"!
About "Princess Love Palace in the Mirror"
[Image 10
https://products.voltage.co.jp/mirror/
"Princess Love Palace in the Mirror" Official Twitter (@mirapuri_LP):
https://twitter.com/mirapuri_lp
"Princess Love Palace in the Mirror" ■Pricing system: basic play free (item charge system) ■Supported models: iOS 10.0 or higher / Android OS 5.0 or higher *May not be available depending on the model. ■ Rights notation: (C) Voltage * Company names, product names, and service names listed are trademarks or registered trademarks of each company. Voltage Company Profile Company name: Voltage Co., Ltd. Location: Ebisu Garden Place Tower 28th Floor, 4-20-3 Ebisu, Shibuya-ku, Tokyo Representative Director and President: Yuji Tsutani [Image 11
About "Boru Koi" "Boru Koi" is a generic name for Voltage's romance drama series that provides comfort and enjoyment to modern women. You can choose your favorite situation, choose your favorite handsome man, and experience the ideal love story of the main character yourself. "Boru Koi" can be enjoyed on various platforms such as smartphone apps, WEB and Nintendo Switch (TM). "Vol Koi" introduction page:
https://products.voltage.co.jp/volkoi/
Details about this release:
https://prtimes.jp/main/html/rd/p/000001257.000002633.html
MAIL:cr@prtimes.co.jp
Copyright (c) PR TIMES Corporation.