"Apex Legends (TM)" official board game successfully raises funds, adds exclusive items and new pledge options, updates large-scale campaign
GLASS CANNON UNPLUGGED SP.Z O.O.
"Apex Legends (TM)" official board game successfully raises funds, adds exclusive items and new pledge options, updates large-scale campaign
Glass Cannon Unplugged Makes Important Changes Following Fan Feedback ……………………………………………………………………………………………
Glass Cannon Unplugged has announced that the Apex Legends (TM): Board Game Kickstarter campaign has far exceeded its initial goals and successfully raised funds in just 7 hours, prompting a major update to the campaign. Announced. We also plan to release a Japanese version of this project.
[Image 1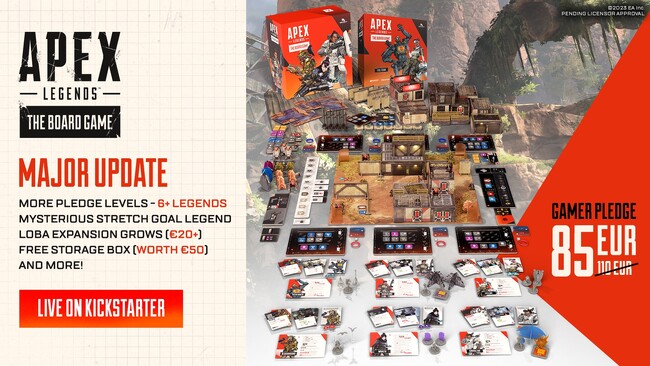 ▼ Click here for the update announcement
https://www.kickstarter.com/projects/glasscannonunplugged/apex-legends-the-board-game/posts/3817756 ▼ "Apex Legends (TM): Board Game" Kickstarter page
https://www.kickstarter.com/
projects/glasscannonunplugged/apex-legends-the-board-game ▼ "Apex Legends (TM): Board Game" announcement video

[Video 2: https://prtimes.jp/api/movieim.php?url=www.youtube.com/watch?v=ByPpc2FPd_s] We understand the importance of your favorite experiences and characters getting their fair share on the tabletop, and we've listened to feedback from the Apex Legends™ community to make this change. This update adds several new pledge options to help support this one-of-a-kind project, giving backers more flexibility to earn more Legendary miniatures. provide a way.
[Image 2

Also adding a Kickstarter-exclusive Displate poster (available as an add-on pledge or as a stand-alone pledge) and a Legendary Storage Box (free with All Impledge) are new additions for fans to join the campaign now and don't miss out on! It's motivating! Watch the opening ceremony of the limited edition Displate poster by Glass Cannon Unplugged CEO Jakub Wiśniewski here.
▼ "Apex Legends (TM): Board Game" Displate Poster
https://www.youtube.com/watch?v=F35L_Lw1NQk
Campaign updates include:
In collaboration with Displate, Tomasz "Morano" Jędruszek is offering a one-of-a-kind creation to Kickstarter representing three of the game's iconic legends, originally created by Tomasz "Morano" Jędruszek.
Three new pledge levels with six-player support and Legendary miniatures plus Lifeline and Pathfinder.
Legendary storage box: Carefully painted miniatures, boards, rulebooks, etc. are neatly organized in a sophisticated design based on black. Available for purchase in the Pledge Manager, but a free addition to the All-In Pledge tier!
New pledge tier "Legendary Bundle". Sign up for this bundle and get 6 bundles of "Solo All-in" and countless exclusive content.
We've included a new Legend that completes her own diorama when she hits €1 million.
Apex Legends(TM): The Board Game brings the hit hero shooter to the tabletop, with a wide variety of guns and characters, intense firefights, and intense stares before the hero's victory or defeat. Dice rolls and cards are the keys to becoming a legend. The "Apex Legends (TM): Board Game" Kickstarter campaign is running until 00:00 on Friday, June 9, Japan time. If you would like to support this project, please visit the Kickstarter page. Backers will be among the first to receive the physical game at launch, along with the features we've already talked about.
[Image 3

Follow Glass Cannon Unplugged on Facebook, Twitter, YouTube and the official website (https://glasscannonunplugged.com/) for the latest information.
https://www.facebook.com/GlassCannonUnplugged/
https://twitter.com/GCUtabletop
https://www.youtube.com/c/glasscannonunplugged
About Glass Cannon Unplugged:
Glass Cannon Unplugged is a tabletop game studio founded by video game industry veterans and tabletop gamers with over 50 years of
experience, with a clear mission: to bring the world's greatest video games to the tabletop. I have. Led by Jakub Wiśniewski (creator of the critically acclaimed This War of Mine: The Board Game) and Michał Ozon (former COO of board game publisher PHALANX), Glass Cannon Unplugged is the first release of the long-awaited "Frostpunk: The Board Game" will be shelved for the winter of 2022 after becoming one of the most-funded Kickstarter tabletop campaigns of all time. GCU's next collaborations are Techland's Dying Light and EA's Apex Legends, both of which are now available for pre-order on Kickstarter. Please check https://glasscannonunplugged.com for details.
About Genuine Entertainment:
Genuine is a leading producer and paladin for beloved entertainment franchises and fandoms. A trusted conciglier in brand management, licensing and corporate development across all corners of pop culture, working with best-in-class partners to work with your favorite IP and media companies through full-scale adaptations, strategic business development, financial advisory services and premium consumer goods. is being upgraded. Offering 360° insight and full-service support to licensors and licensees, award-winning best-selling titles include Alien RPG, Apex Legends tabletop game program, Batman Blade Runner RPG, and Blade Runner. 2049 Artbook, Acquisition of Cortex, The Dragon Prince Master Tabletop Game Program, Dune Master Tabletop Game Program, Hello Neighbor Party Game, Munchkin Video Game, The Walking The Dead RPG, the WEBTOON licensing and merchandising program, the World of Darknes comic, and more. Please play at
https://genuineent.com.
Details about this release:
https://prtimes.jp/main/html/rd/p/000000002.000121777.html

MAIL:cr@prtimes.co.jp
Copyright (c) PR TIMES Corporation.