Held a vertically scrolling comic "Training Program for Japanese Companies" in Seoul, South Korea, and received high praise from the participants.
Culture Weaver LLC
Held a vertically scrolling comic "Training Program for Japanese Companies" in Seoul, South Korea, and received high praise from the participants.
Acquire practical knowledge about the business model and production technology of the Korean webtoon industry
……………………………………………………………………………………………
Culture Weaver LLC (head office: Toshima-ku, Tokyo; representative: Ryuju Hirayanagi; hereinafter referred to as "Culture Weaver"), which supports the international development of content businesses such as manga, is a Korean educational institution specializing in vertically scrolling comics. Based on a business alliance with the Seoul Webtoon Academy, we have developed a short-term training program for Japanese companies and completed the first schedule.
[Training scene]
[Image 1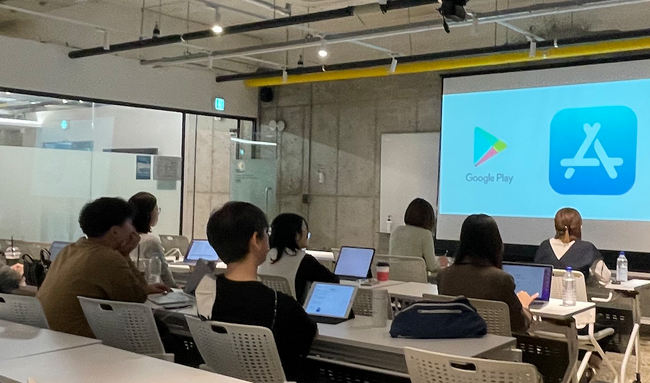 Lecture
[Image 2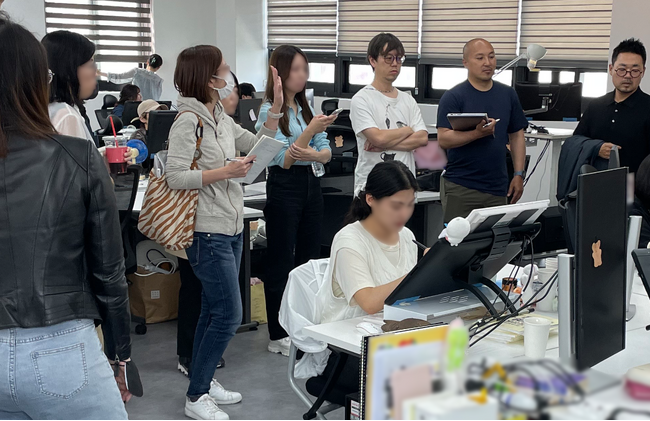 State of studio visit
[Overview]
Period: Thursday, May 11, 2023 to Monday, May 15, 2023
Location: Seoul Webtoon Academy (Seoul, South Korea)
Participating companies: 6 companies in total, including Japanese publishers and production studios
[Holding background]
In Japan, Korean vertical scroll comics are rapidly emerging and attracting attention. Many Japanese companies are entering the vertical scrolling comic business, and among them, companies outside the publishing industry are particularly active. On the other hand, the production of vertical scrolling comics requires a certain amount of time and cost, and the balance between efficiency and workability, as well as grasping trends in collaboration with platforms, have a great impact on the success or failure of studio management. Since the late 1990s and early 2000s, it has spread in South Korea with the spread of the Internet, and has undergone a unique evolution that is different from existing manga works due to viewing on smartphones and the emergence of new platforms. Against this background, we have developed a short-term training program for Japanese companies such as production studios and publishers.
[Partial excerpt from participant questionnaire]
The following comments were received from those who participated in the training.
Thank you very much for letting me participate in this wonderful training! I was impressed by the fact that the Korean webtoon industry has taken a very logical approach through repeated research and trial and error. Through the lectures, I was able to acquire a lot of knowledge that I can immediately put into practice.
As a vertical-scrolling comic creator in Japan, I feel blessed with the opportunity to objectively evaluate our work and receive new inspiration. I think this is the best program for those who have experience in creating works.
The story from the person who is actually making it at the forefront was valuable. I was happy that there were many people who love Japanese manga, and I was able to deepen my understanding of the conflicts and how I overcame them, and learned a lot.
He gave me a structured lecture on the actual situation of each studio in Korea, the relationship with the platform, and how to proceed with the project, and filled in the knowledge I was looking for.
I was moved to see the exceptional drawing technique by the lecturer who was a writer. The materials were detailed, and I was able to know the methodology of thinking about various storyboards according to the intentions, and I had a wealth of knowledge that I could use not only for webtoons, but also for page comics and video content.
I was once again impressed by the production stance of utilizing digital technologies such as Unity and AI. It was very interesting to notice that we had already tried the gimmicks that we were trying to try at our company, and that there were many ideas that we could come up with if we wanted to.
During the training period, both the lecture content and the exchange meeting were opportunities for learning, and it was stimulating to meet enthusiastic people involved.
I was able to enjoy sightseeing during my free time, and it was a very satisfying experience in all respects. I am so impressed that there is such a wonderful training.
In addition to the training, it was reassuring as it was my first overseas business trip alone in terms of travel procedures and local support. It was really helpful to receive information about local sightseeing and dining.
Various opinions were received, such as the historical background of Korea and impressions of studio production. We will continue to improve the quality of our training and strive to support the growth of all participants.
[Program overview]
Webtoon ecosystem and business model An overview of the webtoon business ecosystem and understanding of studio and platform strategies and reader trends in Korea.
Planning and development of studio-type works and profit structure Learn about Webtoon reader trends and profit structure, and gain practical knowledge through case studies of JQComics.
Grasping technique for each process and management system by visiting the studio Through interviews with production staff, you will learn about the optimization of the production line and the management system.
We will explain the latest status and international expansion of the business status platform of the global Webtoon platform.
Q&A session (questions and answers by instructors and mentors)In addition to the issues and questions that were raised in the Japanese studio that were solicited in advance, we added questions that were newly created in the first half of the program, and answered them one by one, providing an opportunity for further learning and information exchange. Offers.
Optimization of scroll effects Learn the characteristics of Webtoon's unique effects and deepen your understanding through case studies. Utilization and Possibilities of Digital Resources You will learn how to utilize digital resources unique to vertical scrolling comics, from early stage BGM and reading by voice actors to the latest 3D and AI drawings.
Questions and Answers and Feedback (Final Day) Questions and answers regarding the entire training and feedback from participants will be accepted.
Social gathering with local authors and production studios Deepen understanding of the Korean webtoon industry by inviting authors and studio operators from various genres, from action to romance, martial arts to BL, and interacting directly with participants from Japan. increase.
【Future plans】
We are planning to hold a short-term seminar in Japan and an intern training program in Korea for several months. In particular, for short-term seminars, we would like to organize tours not only in Tokyo, but mainly at manga vocational schools in local cities, so please feel free to contact us if you are interested.
Details about this release:
https://prtimes.jp/main/html/rd/p/000000005.000113312.html

MAIL:cr@prtimes.co.jp
Copyright (c) PR TIMES Corporation.