TOY Publishing Co., Ltd. A must-see for library staff! Perfect for learning food education, lifestyle studies, and science ������ Carefully explained about 19 kinds of vegetables "I was surprised to see! Eat and smile! ! First Vegetable Zukan" will sta
TOY Publishing Co., Ltd.
A must-see for library staff! Perfect for learning food education, lifestyle studies, and science ������ Carefully explained about 19 kinds of vegetables "I was surprised to see! Eat and smile! ! First Vegetable Zukan" will start shipping from May 25! !
Supervised by Professor Satoshi Fujita (Keisen Jogakuen University), a leading vegetable gardener who has appeared in "Hobby Gardening Vegetable Time" (NHK) and "The Most Wanted Class in the World" (Nippon TV). This is a book full of surprising discoveries.
……………………………………………………………………………………………
TOY Publishing Co., Ltd. (Toshima-ku, Tokyo) publishes a picture book that everyone from first graders to adults can enjoy. Eat and smile! ! First Vegetable Zukan" was published on May 25, 2023.
[Image 6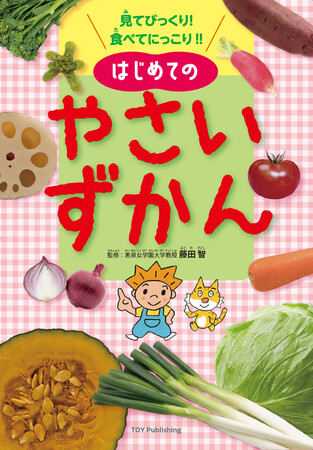 What does it mean to eat vegetables? It's easy to watch and eat normally. If you take a closer look,
A lot of surprising discoveries! !
19 types of vegetables familiar to children are carefully explained one by one so that they can be used as learning materials for food education, life sciences, and science at elementary schools, so it is recommended for the first step to touch vegetables. .
In addition, the history of each vegetable, bits of knowledge, columns, etc. are enriched, so it is a content that can be read and used by a wide range of elementary school students from the lower grades to the upper grades.
"I'm surprised to see you! Eat and smile! ! Bibliographic information (TOY PublishingHP)
https://toypublishing.com/newbooks/
[Introduction]
Carefully explain 19 kinds of vegetables with plenty of photos! We carefully explain vegetables using full-size photos,
cross-sectional photos taken vertically and horizontally, and photos of how they are ripening.
[Image 2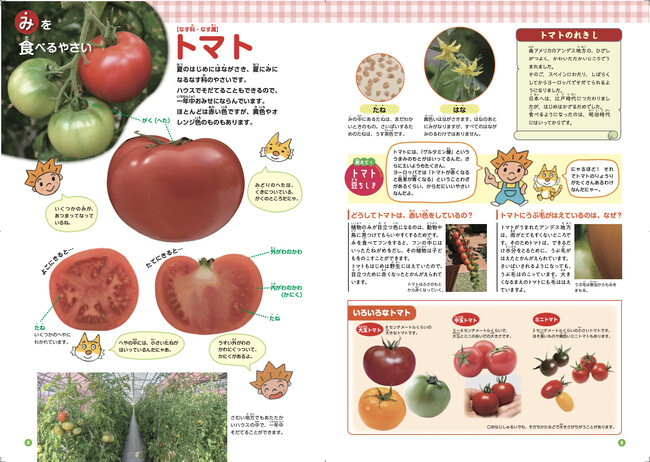 -Eat fruits-Tomatoes, eggplants, cucumbers, bitter melons, and pumpkins -Eat leaves-Cabbage, spinach, green onions, and onions -Eat seeds-Edamame soybeans and corn -Eat stems-Potatoes, asparagus, and lotus root- Eat flowers – broccoli, cauliflower – Eat roots – radish, carrots, sweet potatoes
Easy-to-understand explanations of the history of each vegetable, the characteristics of vegetables, and trivia using cute illustrations. Boy and cat characters explain points of concern in an easy-to-understand manner "I see" will increase
[Image 3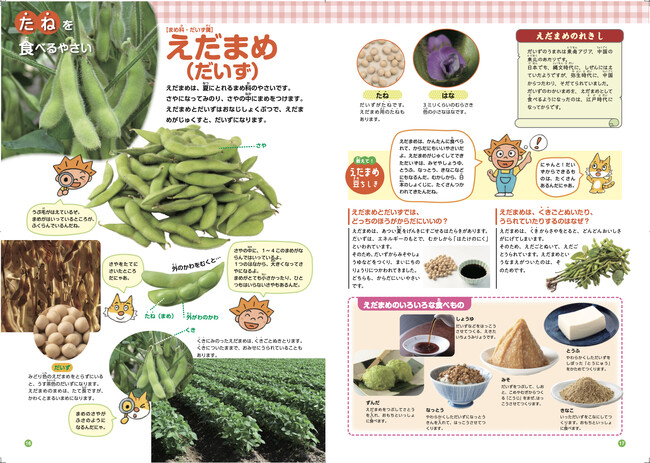 At the end of the book, play and practical things about vegetables are posted! At the end of the book, there are games using vegetables, vegetable quizzes, easy cooking, growing bean sprouts, and why? Why? Special pages such as columns are posted to further expand the knowledge of vegetables.
[Image 4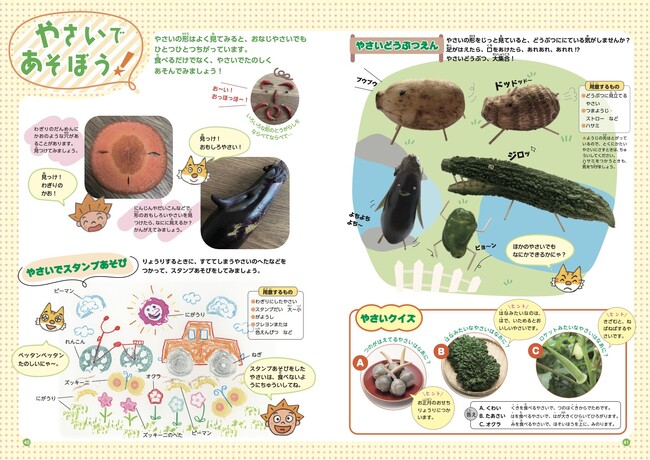 [Author introduction]
[Image 5

Supervisor: Satoshi Fujita
Vice President, Keisen University (Professor, Department of Social Horticulture, Faculty of Humanities and Social Sciences)
Born March 7, 1959 in Yuzawa City, Akita Prefecture.
Graduated from the Department of Agriculture, Faculty of Agriculture, Iwate University. Graduated from Iwate University Graduate School. In April 1983, he worked at a private school, Nakano Gakuen High School (Morioka City).
Appeared in many media such as "NHK Hobby Gardening / Vegetable Time", "Nippon Television / World's Best Class", "NHK Radio / Summer Vacation Children's Science Telephone Consultation (Plant Respondent)", "NHK Radio / Radio Midnight Flight". .
He is active in teaching home vegetable gardens and allotment gardens, and through lectures and other activities, he is devoted to spreading agriculture and horticulture to the world. He has authored and supervised more than 150 books related to gardening.
The words he cherishes are "He who cultivates the earth also cultivates the hearts of others."
Text/Composition/Editing: Group Columbus
A production group that mainly edits children's books. He has worked on a large number of children's books in a wide range of genres, including encyclopedias and mooks, vehicles, animals, trompe l'oeil, and learning books. Many of his works include the "Trick Art" series (Akiyoshi Kitaoka, supervised by Akane Shobo), the "Dictionary Picture Book" series (Hikari no Kuni), and the "Denjiro-sensei's Fun Science Laboratory" series (Shinnihon Publishing).
Text: Nao Ogawa
Picture: Akira Kato
Bibliographic information
[Image 6

Book title: Surprised to see! Eat and smile! ! Vegetable Zukan for the first time
Supervision: Tomofumi Fujita / Composition / Editing: Group Columbus / Nao Ogawa List price: 3,190 yen (10% tax included)
Publisher: TOY Publishing ISBN: 978-4-910671-03-1 Format (actual size): A4 version (315mm x 215mm) Number of pages: 48 pages
Release date: May 25, 2023
Available at bookstores and online bookstores nationwide
Now on sale at the TOY Publishing online store
https://store.shopping.yahoo.co.jp/toy-publishing/toypublish.html Details about this release:
https://prtimes.jp/main/html/rd/p/000000016.000089931.html

MAIL:cr@prtimes.co.jp
Copyright (c) PR TIMES Corporation.