Gentosha Co., Ltd. Designing a programming school with the No. 1 class record in public elementary schools! "STEMON Programming Card Game" on sale May 25
Gentosha Co., Ltd.
A programming school devised with the No. 1 public elementary school class record! "STEMON Programming Card Game" on sale May 25
……………………………………………………………………………………………
Gentosha Co., Ltd. (President: Toru Mishiro / Shibuya-ku, Tokyo) will release "STEMON Programming Card Game" (problem idea: STEAM Education & Programming School STEMON) nationwide from May 25, 2023 (Thursday). I will.
[Image 1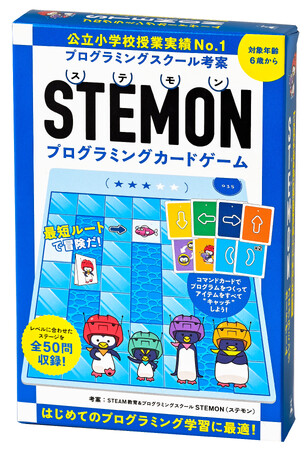 The programming school "STEMON" with the No. 1 public elementary school class performance is devised!
This product is Japan's first STEAM education & programming school, and is a full-fledged programming learning card game packed with the know-how of the programming school "STEMON", which has the No. 1 class record in public elementary schools. While playing, you will learn the three concepts necessary for programming: "combination," "patterning," and "simulation."
In addition, by thinking about how to program to solve problems, "logical thinking ability", "ability to set goals and work", "ability to persevere without giving up" will be nurtured.
[Image 2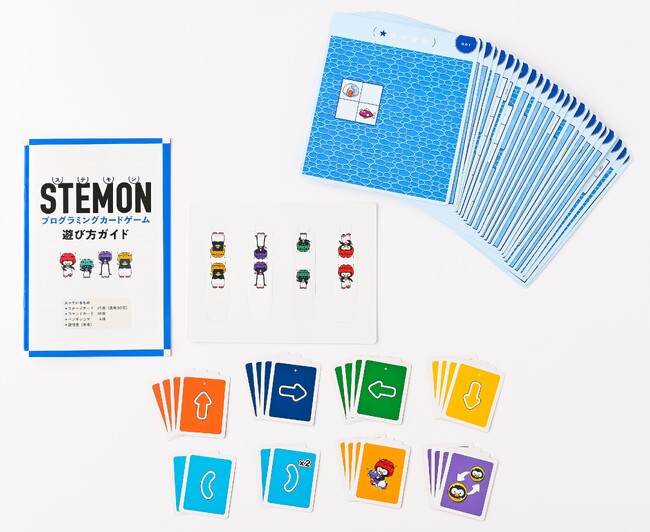 Even lower grades can play without difficulty, so it's perfect for learning programming for the first time!
It is characterized by the fact that even children in the lower grades who are not yet good at using computers or who have not learned Roman letters can start learning programming without difficulty. In addition, by actually touching and moving the pieces and rearranging the cards, it supports abstraction and simulation in the mind. The feature is that it can be used as an unplugged programming education tool that allows you to learn programming "anytime, anywhere" without using a PC or tablet.
[Image 3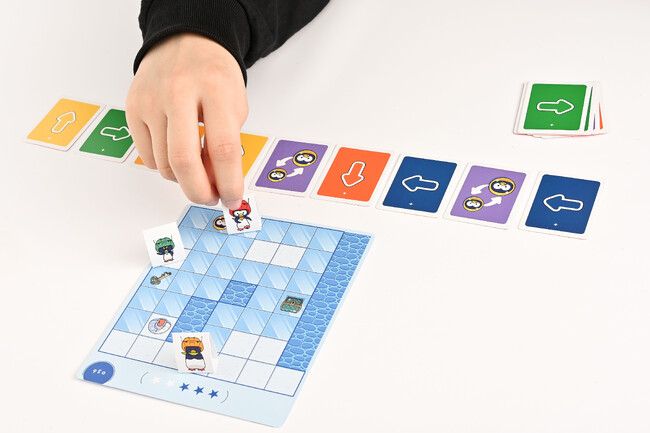 how to play
1. First, without moving the frame, simulate the movement until clearing in your head.
2. Create a program by stacking the command cards face down in the order you want to move them.
3. When completed, flip the card over and move the pieces according to the program in order from the top. It is clear if you can catch all the items on the stage according to the simulation. *Let's devise how to put out the card so that you can clear it with the "shortest route" as much as possible.
[Image 4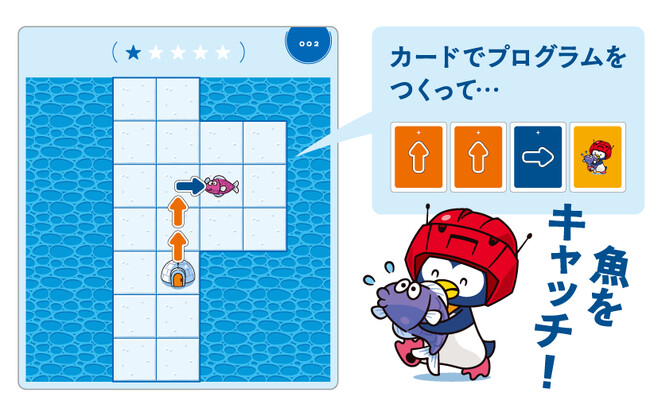 inventor profile
STEMON
Japan's first STEAM education & programming school for infants and elementary school students with the aim of learning the mechanisms and principles of familiar things through manufacturing experiences using blocks, programming, robots, etc. Approximately 180 locations nationwide. We are implementing a curriculum to cultivate the creativity, expressiveness, logical thinking, and problem-solving skills necessary to survive in the AI ​​era. Committee).
Product information
[Product name] STEMON programming card game
[Problem idea] STEMON
[Release date] Thursday, May 25, 2023
[Sales location] Bookstores and toy stores nationwide
[Price] 2,420 yen (main unit 2,200 yen + tax)
[Target age] 6 years old or older
[Target number of people] 1 person
[Set contents] 25 stage cards (50 questions on the front and back), 28 command cards, 4 pieces, how to play guide (20 pages)
Official site: https://www.gentosha-edu.co.jp/Twitter:
https://twitter.com/gentosha_edu
Details about this release:
https://prtimes.jp/main/html/rd/p/000000108.000007567.html

MAIL:cr@prtimes.co.jp
Copyright (c) PR TIMES Corporation.