Yamaha Corporation Exhibiting for the first time at the VR event "Virtual Market 2022 Winter" Providing unique Yamaha experiences at the Metaverse venue from December 3rd (Sat) to 18th (Sun)
Yamaha Corporation
Exhibiting for the first time at the VR event "Virtual Market 2022 Winter" Providing unique Yamaha experiences at the Metaverse venue from December 3rd (Sat) to 18th (Sun)
……………………………………………………………………………………………
Yamaha Corporation will hold Yamaha Ginza at the world's largest market festival "Virtual Market 2022 Winter", which will be held from December 3 (Sat) to December 18 (Sun) at the venue on the metaverse (virtual space). We will exhibit a booth with a store motif, and provide a place where you can experience musical instrument
performances and live streaming with the unique VR production. [Image 1
Exterior of the booth with the motif of the Yamaha Ginza store "Virtual Market 2022 Winter" allows participants to access the venue from anywhere in the world, experience the products and services of exhibiting companies, and use 3D data products such as avatars and real products (clothes, PCs, food, etc.). It is an event on the Metaverse where you can buy and sell . Our medium-term management plan emphasizes "connecting more with customers" and "creating new value." This is the first time we will be exhibiting at this event, with the aim of getting you to become a fan of Yamaha.
The virtual booth set up in "Parareal Paris" in the "Parareal World", which has realized cities around the world in a form suitable for the Metaverse era, is based on the motif of the Yamaha Ginza store. The booth consists of 3 floors: the 1st floor is the "Trial Floor" where anyone can experience playing an instrument, the 2nd floor is the "Vocaloid Floor" where you can fully enjoy the world of Vocaloid culture, and the 1st basement floor is a live stage and event venue. It is a "studio floor" that can also be used as
Taking the opportunity of exhibiting at this event, we will aim to expand virtual customer contact points and consider creating new places for co-creation with the VR community.
-Exhibition Booth Overview-
We will set up a booth with the motif of the Yamaha Ginza store in a location overlooking the Eiffel Tower of "Parareal Paris". Sparkling musical instruments dance around and overhead the building, and the glass-enclosed entrance rotates to welcome guests.
1st floor: Trial floor
We will exhibit 3D instruments modeled from Yamaha electric guitars, bass guitars, drum sets, alto saxophones, grand pianos, Line 6 guitar amps, and Ampeg bass amps. In addition to being able to view the finely reproduced instruments in detail from any angle, you can also try out the instruments on display. You can enjoy playing musical instruments in a lively space where Yamaha Music School's character "Pupple and Friends" will appear.
During the period, employees who actually work at Yamaha stores will appear at the booth for a limited time. You can communicate with employees who usually cannot meet unless you go to the store on VR. [Image 2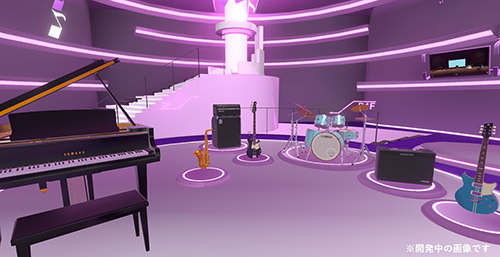 [Image 3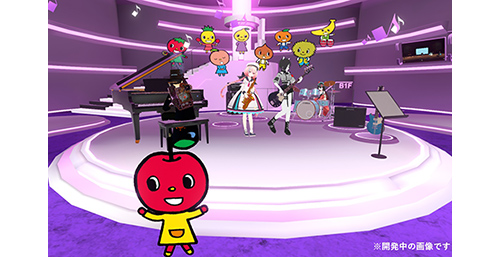 2nd Floor: Vocaloid Floor
This is a floor with respect for creators and fans involved in vocaloid culture. In addition to introducing the latest "VOCALOID(TM) 6", a character photo booth will be set up. You can take a picture with Hatsune Miku and Megpoid life-size panels. In addition, Yamaha's live distribution equipment "AG series", which is very popular among streamers, will be displayed as a 3D item, and a live distribution of the video "I tried dancing" of the famous Vocaloid producer, PinocchioP's representative work "Kamippoi na". We have prepared content that allows you to have a simulated experience. When you touch the "AG series", the visitor's avatar will be sucked into the monitor, and the avatar will dance in the monitor with the PV of "Kamippo na" in the background.
[Image 4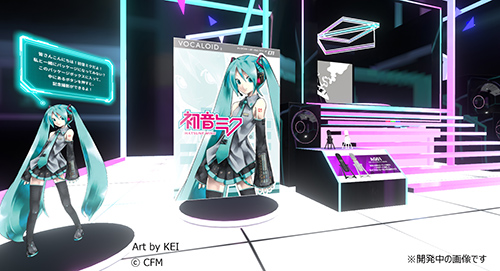 [Image 5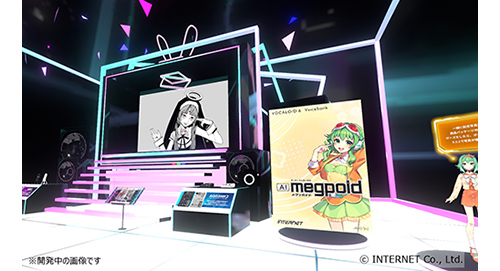 B1F: Studio
Virtual live performances and dialogue events will be held in a space that mimics the Yamaha Ginza studio. During times other than when the event is held, you can freely see the 3D musical instruments displayed on the studio stage.
[Image 6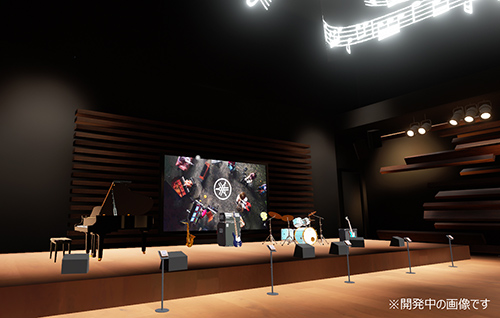 [Studio event details, delivery date and time and performers] Yamaha x AWAKE Virtual Market Special Music Night
A live event in collaboration with the live house "V-Kitazawa AWAKE" on VRChat. Popular VR artists active in AWAKE will perform in real time.
December 10th (Sat) 21:00-22:30 Hattoitoi, CROWK, PHAZE
December 17th (Sat) 21:00-22:30 JOHNNY HENRY, Insomnia Woman, StrollZ Vocaloid P x Yamaha developers -Talking about "Vocaloid culture" from two perspectives-
A talk event between Vocaloid P and Yamaha's "VOCALOID" developers. We will talk about Vocaloid development secrets, the encounter between Vocaloid P and Vocaloid, and the future of Vocaloid from the different perspectives of creators and developers.
December 6 (Tuesday) 18:00-19:00 Vocaloid P screw type, Yamaha Corporation Electronic Musical Instrument Development Department Masafumi Yoshida
[Yamaha AG/ZG Kaitai Shinsho] Mastering 120%!? Developer Talk!! [Live streaming from Vket]
Live distribution equipment "AG series" popular with streamers and audio mixer "ZG series" specialized for game distribution. The developers will talk about the behind-the-scenes stories behind the development of both series, which have been a hot topic since their release.
December 9th (Friday) 18:00-19:00 Yamaha Corporation Professional Audio Division Masashi Kaneda, Mizuyuki Shirai
The delivery date and time and content are subject to change, so please check the official website for the latest information on the event.
The above event will also be live-streamed on YouTube. Please see the official website for details.
https://winter2022.vket.com/
-About Virtual Market-
The world's largest VR event where you can buy and sell 3D items such as avatars and real products (clothes, PCs, food, etc.) at venues on the Metaverse. Held since 2018, it is a pioneering event of Metaverse that boasts over 1 million visitors from all over the world and holds a Guinness World Record (TM) *. In addition to buying and selling products, we also offer "experiences" unique to Metaverse, such as riding in vehicles, receiving customer service, and participating in live music. In addition, voice communication is possible between visitors, and you can enjoy the presence as if you were walking around the city together in the real world.
*Recognized by Guinness World Records (TM) as the largest number of booths at a virtual reality market event
Overview of "Virtual Market 2022 Winter"
Organizer: VR corporation HIKKY
Date: December 3rd (Sat) to 18th (Sun), 2022 (16 days in total) Corporate exhibition venues: Parareal Paris / Parareal Sapporo / Parareal Nagoya Official site: https://winter2022.vket.com/
How to visit: Please check how to visit the official website above. *Yamaha's booth can be enjoyed in the special world in VRChat. Web browser space is not supported.
Yamaha Corporate Information Site/News Release
https://www.yamaha.com/en/news_release/
*Product names, company names, etc. in the text are trademarks or registered trademarks of our company or other companies.
*The information contained in this news release is current as of the date of the announcement.
Please note that it may change after the announcement date.
Details about this release:
https://prtimes.jp/main/html/rd/p/000000664.000010701.html