Kobunsha Co., Ltd. Flower Cyclist (R)︎Suggested by Haruka Kawashima! How to enjoy the life of flowers in a f ashionable way for a long time "Ideas for enjoying flowers, from fresh flowers to dried flowers: Flower cycle art at hom e" will be released
Kobunsha Co., Ltd.
Flower Cyclist (R)︎Suggested by Haruka Kawashima! How to enjoy the life of flowers in a fashionable way for a long time "Ideas for enjoying flowers, from fresh flowers to dried flowers: Flower cycle art at home" will be released from Kobunsha on Wednesday, September 20th!
…………………………………………………………………………………………………
[Image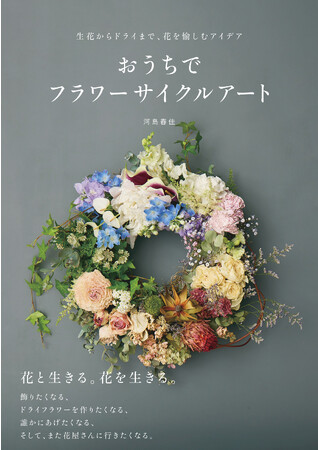 When author Haruka Kawashima was working part-time at a flower shop, she was shocked by the amount of flowers that were thrown away. "Let's revive this flower as a dried flower."
Deciding to do so, he changed the name Ross Flower (R) to flowers that were to be discarded after their short service at flower shops, weddings, and events, and changed his title to Flower Cyclist (R), turning Ross Flower (R) into dried flowers. Upcycle (reuse). My job is to give a new stage to flowers that have been brought back to life, and to make suggestions to reduce the amount of flowers that end up being discarded. This book brings the know-how of professionals who incorporate flowers into their daily lives into a way that anyone can easily and stylishly enjoy them at home.
Leave as fresh flowers for as long as possible, then as dried flowers. Even if you have been hesitant to buy flowers because you like flowers, but don't want to throw them away, you can start living a rich life with flowers from today.
【table of contents】
Introduction Flower cycle art is a way to fully enjoy the life of flowers for a long time.
Chapter 1 From fresh flowers to dried flowers. Recommended flowers that anyone can easily enjoy
Chapter 2 Flower Cycle Art Beginner Edition
Just hang it upside down. Dry it and enjoy it as art!
Chapter 3 Flower Cycle Art Beginner/Intermediate Edition
Use the delicate petals to make pressed flowers. Perfect as a gift Chapter 4 Flower Cycle Art Intermediate Edition
Coloring fresh flowers! The best part is the color development when dry. Chapter 5 Flower Cycle Art Advanced Edition
It's like fresh flowers! Use a drying agent to maintain the
three-dimensional effect and color tone
In conclusion, flowers direct our eyes to what is, rather than what is not. Creates a cycle of happiness
[Author information]
Haruka Kawashima (Haruka Kawashima)
Flower Cyclist (R)︎, Representative Director of RIN Co., Ltd. Born in 1988 in Nagano Prefecture. Spending his childhood in the great outdoors, he came to love nature. Around 2014, he taught himself how to make dried flowers, and while working part-time at a flower shop, he was shocked by the amount of flowers that were thrown away, so he started working as a Flower Cyclist(R)︎. In 2018, she raised funds through crowdfunding to study abroad in Paris, and in 2019 she launched RIN Co., Ltd. In 2021, we have renewed the "Flower Career Academy" school for becoming Flower Cyclists (R)︎, and are currently working with over 200 graduates from all over the country to achieve our mission of "Reducing flower loss and making life with flowers a culture." Currently working to achieve this goal. He is the author of "Illustrated Guide to Dyeing Dried Flowers" (Exknowledge Publishing, 2023).
https://lossflower.com
Instagram: @haruka.kawashima
[Book summary]
Book title: "Ideas for enjoying flowers, from fresh flowers to dried flowers: Flower cycle art at home"
Author: Haruka Kawashima
Publisher: Kobunsha
Release date: Scheduled to be released on Wednesday, September 20, 2023 *Depending on distribution conditions, the release date may be delayed in some areas.
Price: 1,870 yen (tax included)
Format: A5 size software
More details about this release:
https://prtimes.jp/main/html/rd/p/000001645.000021468.html

MAIL:cr@prtimes.co.jp
Copyright (c) PR TIMES Corporation. All Rights Reserved.