Gakken Holdings Co., Ltd. Released "45 Tips on Nursing Care Practices for Mutual Compromise" that will make relationships go better when viewed from a "personal" perspective
Gakken Holdings Co., Ltd.
Released "45 Tips on Nursing Care Practices for Mutual Companion" to improve relationships when viewed from a personal perspective. …………………………………………………………………………………………………
Medical Care Service Co., Ltd. (Saitama, Saitama City/Representative Director and President: Norio Yamamoto), a group company of Gakken Holdings Co., Ltd. (Shinagawa, Tokyo/Representative Director and President: Hiroaki Miyahara), will be announced on Thursday, September 21, 2023. ), we will publish "45 Tips for Nursing Care Practices that Help Both People Compete With Each Other".
[Image 1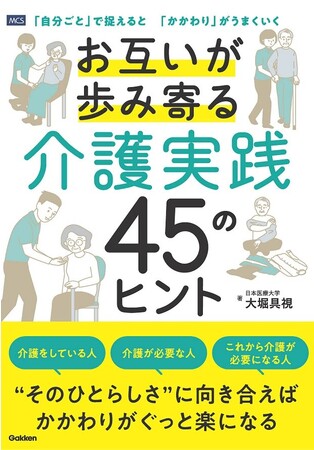 Helpful hints for nursing care can be found in everyday life! In this book, in order to understand nursing care practices that are mutually compatible,
Chapter 1 You can put it to use right away! Tips for nursing care practice Chapter 2 Tips for understanding users' "as they are"
Chapter 3: Tips for building relationships for successful assistance The book is divided into three chapters, each with its own scenes and examples. Eating, bathing, toileting, rehabilitation…
Situations involved in assistance cover every corner of daily life, and the way we are involved in each one is different.
For example, knowing the "personality" of the user will change the way you interact with them, such as the order and speed of their movements, how they speak to you, and how they encourage you. ●Sit slowly, that's all.
When you sit down on a chair, do you find yourself sitting down with a sudden thud?
Just sit down and relax. That's all. This movement will help you build a body that will help you walk healthily forever.
●Is fashion good for your health?
When someone says, "Let's change your clothes! Your clothes are dirty!" Both the person who encourages and the person who is encouraged may be reluctant.
"What kind of clothes should I wear today?" By asking the children to choose for themselves, they can start changing their clothes in a positive manner.
In this way, there are plenty of examples of how to cut out one scene of daily life and do it comfortably and smoothly.
Let's learn the essence of useful assistance from daily scenes that everyone can remember.
[Image 3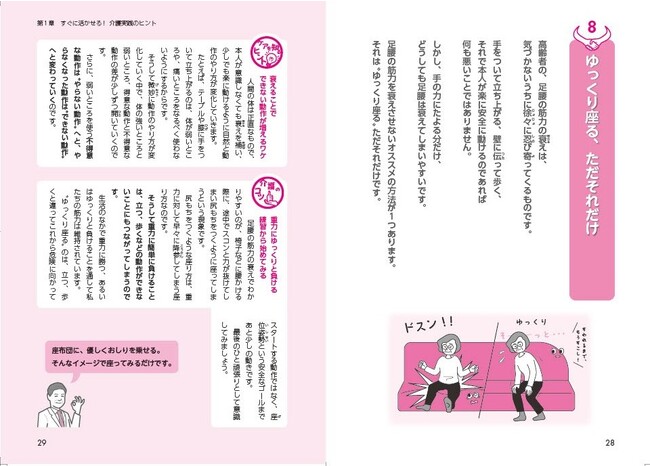 ▲Explaining tips and tricks to make life easier for those who need assistance and those providing assistance *1 About Kendatsu Net Kendatsu Net is an information site operated by Medical Care Service Co., Ltd., which publishes supervised articles and interviews with medical professionals and care workers who are active in the field of dementia, as well as nursing care facility searches, medical news, etc. We also offer
The monthly maximum PV is approximately 7.5 million PV, and it is a site that delivers information to a wide range of people as Gakken Group's media.
HP: https://www.mcsg.co.jp/kentatsu/
About the publishing business of Medical Care Service Co., Ltd. Since November 2022, our company, within the Gakken Group, which has been publishing and selling nursing/medical books and health/family medicine books, will utilize the knowledge we have cultivated in the nursing care business, centered on dementia care, to provide support for families and families. We have begun publishing publications aimed at caregivers, care workers, students, and those working on health promotion and prevention.
[Author profile]
Tomomi Ohori
Born in Hokkaido. Occupational therapist. Professor, Department of Rehabilitation, Faculty of Health Sciences, Nippon Medical University. He gives lectures, writes, and conducts research based on the theme of "starting with the person," which represents user-centered care. We are currently serializing "Easy home care blog for families" on Kendatsu Net.
Main publications
・Nursing care practice that "starts with the person" (Chuohoki Publishing) ・Communication that encourages users to start working (Chuohoki Publishing) [Product overview]
Author: Tomomi Ohori
List price: 1,540 yen (tax included)
Release date: Thursday, September 21, 2023
Format: A5 size/128 pages
Electronic version: Yes
ISBN:978-4-05-802054-8
Publisher: Medical Care Service Co., Ltd.
Published/Sold by: Gakken Co., Ltd.
Gakken Publishing site: https://hon.gakken.jp/book/2080205400
[Click here to reserve and purchase this book]
Amazon https://www.amazon.co.jp/dp/4058020547
Rakuten Books https://books.rakuten.co.jp/rb/17573867/
Kinokuniya Bookstore https://www.kinokuniya.co.jp/f/dsg-01-9784058020548 honto https://honto.jp/netstore/pd-book_32654613.html
Medical Care Service Co., Ltd. Company Profile
Founded in 1999 in Saitama City, Saitama Prefecture. Since its founding, the company has specialized in dementia care and has developed a variety of nursing care services, centering on the group home "Ai no Ie" for elderly people with dementia, as well as "Ensemble" and "Faminew," paid nursing homes with nursing care. Currently, we operate more than 340 nursing care facilities
nationwide, and boast the highest number of group home rooms in Japan. Overseas, we operate businesses such as the management of paid nursing homes and development consulting, mainly in China.
Our brand message is "Beyond Dementia." We aim to create a society where all people with dementia can live as normal as they do. Established: November 24, 1999
Address: 29th floor, Land Axis Tower, 11-2 Shintoshin, Chuo-ku, Saitama-shi, Saitama 330-6029
Representative: Norio Yamamoto, President and Representative Director Employees: Approximately 6,900 people
Sales: 34.9 billion yen (September 2022)
Bases: 340 offices in 32 prefectures in Japan, 7 offices overseas (China) HP: https://www.mcsg.co.jp/ (as of September 2023)
More details about this release:
https://prtimes.jp/main/html/rd/p/000005429.000002535.html

MAIL:cr@prtimes.co.jp
Copyright (c) PR TIMES Corporation. All Rights Reserved.