Tatsumi Publishing Co., Ltd. A collection of recipes for handmade confectionery expert Takako Inada's first ro und cake. "Moist cake and fluffy cake that can be baked in 2 sizes of round molds" will be released on September 19t h.
Tatsumi Publishing Co., Ltd.
Handmade confectionery expert Takako Inada's first round cake recipe collection. "Moist cake and fluffy cake that can be baked in 2 sizes of round molds" will be released on September 19th.
All recipes use round molds purchased at a 100 yen shop. You can make both 15cm size and 2 12cm size with one recipe. It's wallet-friendly and very easy to make.
…………………………………………………………………………………………………
A total of 45 no-fail recipes that allow you to make both moist and fluffy cakes as you like!
[Image 1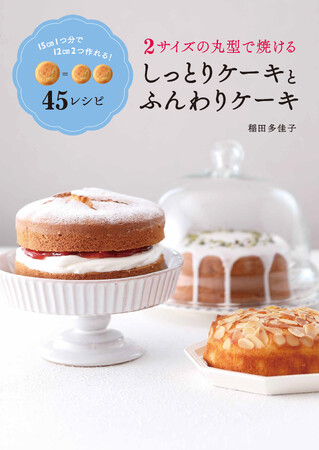 [Amazon]
https://amzn.asia/d/0FvFjhX
[Rakuten Books]
https://books.rakuten.co.jp/rb/17586155/
You can make two 12cm size pieces from one 15cm size piece.
[Image 2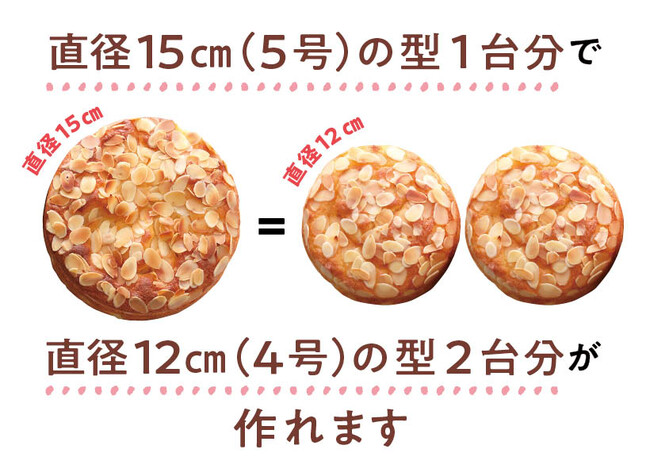 A round cake is a classic anniversary cake. You can now buy special round cake molds at 100 yen shops.
This book focuses on the fact that the amount for one 15cm diameter size (No. 5) is exactly the same as two 12cm diameter size (No. 4). You can bake one large cake or two small cakes, eat one yourself, and give one as a gift.You can make it efficiently and enjoy it depending on your mood that day and the number of people who will eat it. We are proposing. All recipes are baked in a round mold purchased at a 100 yen shop.
Cute cakes like those sold in stores are completed in 6 steps [Image 3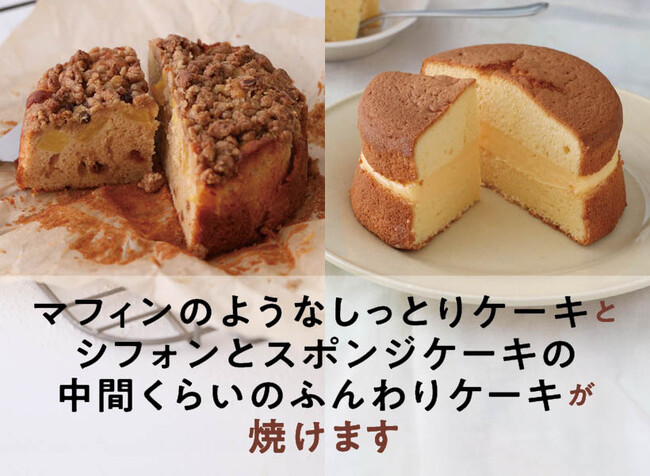 There are two types of base fabrics. A cake with a moist taste like a muffin, It is a light and fluffy cake that is somewhere between chiffon and sponge cake. Both doughs are delicious plainly, but we'll introduce 45 variations using jams and fruits you usually have in your fridge, chocolates, nuts, tea, etc. that you can find around you.
All the dough making is done in one bowl, and all recipes and baked goods take less than 6 steps.
This is a collection of recipes that can be easily made by both beginners and busy people.
You can also make your own anniversary cake!
[Image 4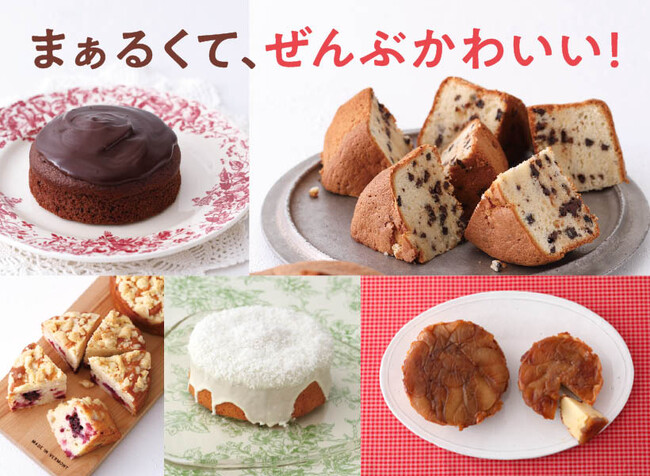 The great thing about round cakes is that they look cute, and if you cut them radially, you can cut them into equal pieces. It has a special feel that makes it suitable as the centerpiece of the table, so it has become a standard for anniversary cakes such as birthdays and wedding anniversaries. This book also features cakes that look great with simple decorations, such as those with icing or topped with cream, as well as cakes with cute cross-sections, such as marble patterns and sand cakes. The feeling of elation when you cut it into pieces is exceptional.

Introduction/Characteristics of the cakes introduced in this book/Basic tools/Basic ingredients
Chapter.1 Moist cake made by mixing
Basic plain/jam marble cake/apple cake/baked sweet cake/honey banana cake/chocolate and banana cocoa cake/banana cake/blueberry and chocolate cookie cake/tea and grapefruit cake/cheddar cheese cake Matcha and black bean cake / Red bean and sesame cake / Chestnut cake / Camembert cheese and strawberry jam cake / Peanut butter cake / Pear and almond cake / Apricot and almond cake / Mixed berry and crumble cake / Pineapple and Brown sugar crumble cake / Cocoa cake with chocolate ganache / Coffee marble cake with mascarpone cream / Carrot cake / Zucchini cake
Chapter.2 Fluffy cake made with meringue
Basic plain/Hojicha cake/Tea cake/Coffee and walnut cake/Strawberry cake/Lemon cake/Kiwi cake/Cane sugar cake/Ginger cake/Brown sugar and grain cake/Coconut and white chocolate Cake / Cinnamon and macadamia nut cake / Apple upside down cake / Matcha and condensed milk cream cake / Custard cream sandwich cake / Victoria sandwich cake / Red bean paste butter sandwich cake / Fruit cake / Orange cake / Rum Karen and chopped chocolate cake /Chocolate marble cake
Purchase from here
[Amazon]
https://amzn.asia/d/0FvFjhX
[Rakuten Books]
https://books.rakuten.co.jp/rb/17586155/
Author profile
Takako Inada
Confectionery/cooking researcher. Hosts the sweets and cooking class "T's oven" both in real life and online. We offer many recipes that are easy to make and reproduce in your home kitchen. The genres range from sweets to side dishes, snacks, and bento boxes, and they are disseminated through various media such as SNS, books, TV, and newspapers. Since his first book, "Really Easy Baked Sweets Recipes" (Shufu to Seikatsusha) in 2004, he has written many books. Japanese tea instructor and tea advisor.
Product Summary
Author: Takako Inada
Regular price: 1,760 yen (1,600 yen + tax)
Format: B5 size/96 pages
ISBN:
Release date: September 19, 2023
Publisher: Nitto Shoin Head Office (Tatsumi Publishing Group) https://tg-net.co.jp/
More details about this release:
https://prtimes.jp/main/html/rd/p/000000185.000093966.html

MAIL:cr@prtimes.co.jp
Copyright (c) PR TIMES Corporation. All Rights Reserved.