Expanding Sky! Precure x Collaboration event held at Japan's best starry sky in Achi Village, Nagano Prefecture
Achi☆Hirugami Tourism Bureau
Expanding Sky! Precure x Collaboration event held at Japan's best starry sky in Achi Village, Nagano Prefecture
Saturday, October 7, 2023 – Sunday, November 19, 2023 Lots of content including Cure Sky's starry sky commentary movie screening and stamp rally
…………………………………………………………………………………………………
At Fujimidai Kogen Ropeway Heavens Sonohara in Achi Village, Nagano Prefecture, which has the best starry sky in Japan, the popular anime "Hirogaru Sky! We will be holding a collaboration event called "Hirogaru Sky! PreCure x Japan's Best Starry Sky in Achi Village, Nagano Prefecture."
[Image 1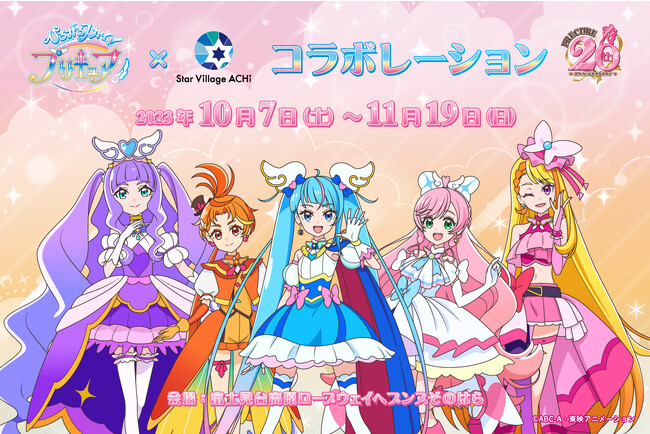 Fujimidai Kogen Heavens Sonohara is located in Achi Village, Shinshu, which is rich in nature. The total length is 2,500m, the height difference is 600m, and the gondola ride takes about 15 minutes to the top of the mountain at an altitude of 1400m. There you will find a breathtaking view worthy of being called a paradise in the sky. This collaboration will take place during early morning, midday, and evening hours.
In collaboration with "Unkai Harbor, a paradise in the sky" where you can enjoy a sea of ​​clouds stretching all the way to the Southern Alps in the early morning, "Hirogaru Sky! PreCure Collaboration Drink" will be released.
During the day, a "Hirogaru Sky! PreCure Stamp Rally" will be held around the venue.
At night, we will be holding a "Hirogaru Sky! PreCure Cure Sky Starry Sky Explanation Screening" in collaboration with the "Paradise in the Sky Night Tour" where you can enjoy a star-filled sky.
We will also set up a photo booth within the venue and sell
collaboration goods that can only be purchased here.
Furthermore, on October 8th (Sunday), we are planning to hold the "Hirogaru Sky! PreCure Stage Show".
▶Collaboration date and time: October 7th (Sat) – November 19th (Sun), 2023 *The holding period and time differ for each project, so please see the collaboration special page for details.
Event overview
1. Heavenly Paradise Special Event: Expanding Sky! Precure stage show [Image 2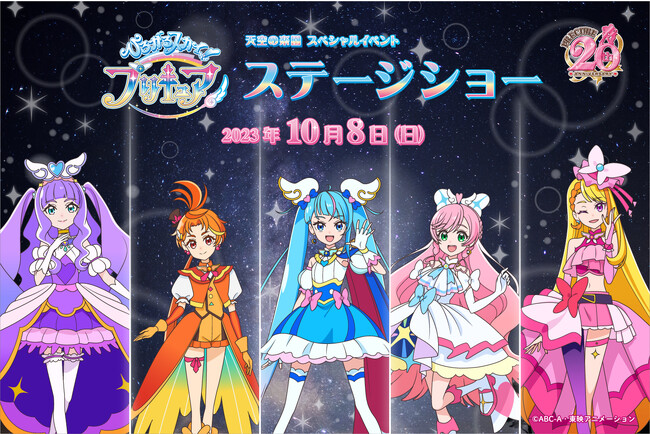 Precure is coming to Heavens Sonohara daytime business and heavenly paradise night tour.
■Date
Sunday, October 8, 2023
■Event time
14:00~ Stage show
20:00~ Stage show
■ Characters appearing
Cure Sky, Cure Prism, Cure Wing, Cure Butterfly, Cure Majesty ■Venue
Fujimidai Kogen Ropeway Heavens Sonohara
outdoor event venue
*Viewing is free. However, the stage from 14:00 requires a round-trip gondola ticket to Heavens Sonohara, and the stage from 20:00 requires an admission ticket to the Heavenly Paradise Night Tour.
*Business hours, event content, and venue may change depending on the weather. *The venue is a lawn, so you can spread out leisure sheets and enjoy it. Leisure sheets are also sold at the Star Shop at the foot of the mountain or at the shop in front of North Base at the summit. (From 200 yen per piece)
2. Paradise in the sky Unkai Harbor Expanding sky! Precure collaboration drink [Image 3
Expanding sky! We sell collaboration drinks inspired by Pretty Cure. ■Event period
October 7th (Sat) – November 5th (Sun), 2023
■Event time
5:00-7:00
■Venue
Fujimidai Kogen Ropeway Heavens Sonohara Observation Deck
*Details of collaboration drinks will be released on the special collaboration page.
*Entrance ticket to Unkai Harbor, a paradise in the sky, is required. 3. Heavens Sonohara Daytime Expanding Sky! PreCure Stamp Rally [Image 4
Fujimidai Kogen Ropeway Heavens Sonohara At the foot of the mountain, pick up a stamp rally sheet at the store and try the stamp rally. If you collect all the stamps, you will receive an original postcard. ■Event period
October 7th (Sat) – November 19th (Sun), 2023
■Event time
9:00-16:00
■Reception/Prize exchange
Fujimidai Kogen Ropeway Heavens Sonohara Foothill Shop
■Venue
Fujimidai Kogen Ropeway Heavens Sonohara inside
*You can participate for free. The first 5,000 people will be accepted during the period.
*A round-trip gondola ticket to Heavens Sonohara is required. 4. Paradise in the Sky Night Tour Expanding Sky! PreCure Cure Sky's Starry Sky Explanation Screening
[Image 5
During the starry sky viewing time of the "Paradise in the Sky Night Tour" where you can enjoy a sky full of stars, Cure Sky's starry sky commentary movie, which can only be seen here, will be shown. Enjoy the autumn starry sky with Cure Sky.
■Event period
October 7th (Sat) – November 19th (Sun), 2023
■Event time
1.19:00~Lights down/screening/starry sky viewing time
2.19:45~ Lights down/screening/starry sky viewing time
3.20:30~ Lights down/screening/starry sky viewing time
■Venue
Paradise night tour venue in the sky: Fujimidai Kogen Ropeway Heavens Sonohara outdoor event venue
*Viewing is free. However, an admission ticket for the Heavenly Paradise Night Tour is required.
*Business hours and venue may change depending on weather and other event details.
*The venue is a lawn, so you can spread out leisure sheets and enjoy it. Leisure sheets are also sold at the Star Shop at the foot of the mountain or at the shop in front of North Base at the summit. (From 200 yen per piece)
*At this venue, flash photography and the use of LCD screens are prohibited during the stargazing time after the lights are turned down.
5. Expanding sky! Precure photo booth set up and original goods sold During the period, a photo booth will be set up at Fujimidai Kogen Ropeway Heavens Sonohara Summit North Base.
You can take photos with PreCure.
At the shop, original goods from Hirogaru Sky! PreCure x Japan's Best Starry Sky from Achi Village, Nagano Prefecture will be sold. *Details of original goods will be released one after another on the special collaboration page.
[Image 6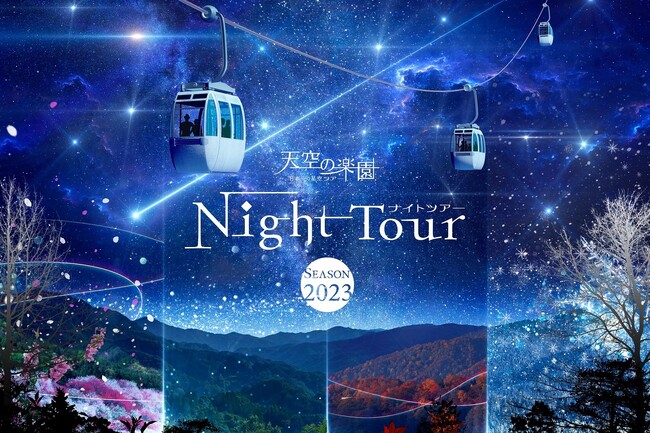 "Paradise in the Sky Night Tour" information
■Event period
April 15, 2023 (Sat) – March 23, 2024 (Sat)
■Exclusion period
November 20th (Monday) – December 22nd (Friday), January 22nd (Monday) – February 2nd (Friday), 2024
*For gondola maintenance, site maintenance, etc.
■Business hours
17:00-20:00 Upward gondola service
Down gondola running all the time
Program ends at 21:00 (lights on inside)
■Fees
Adults and high school students 2,200 yen and up / Elementary and junior high school students 1,100 yen and up / Preschool children free *Prices include round trip gondola ride.
*Fluctuating rate system
■Venue
Fujimidai Kogen Ropeway Heavens Sonohara
3731-4 Chisato, Achi Village, Shimoina District, Nagano Prefecture 395-0304 ■Parking lot
2000 units free
■Sponsored by
J Mountains Central Co., Ltd.
■Planning/cooperation
Achi Hirugami Tourism Bureau Co., Ltd. / Star Village Achi Tourist Promotion Council
■Contact us
Fujimidai Kogen Ropeway Heavens Sonohara 0265-44-2311
■Official website
https://sva.jp/
■Ticket information
◆Online tickets (date and time specified, advance reservation required) Paradise in the Sky Official Website http://sva.jp/
・Sold from 10am two weeks before the date of use
◆Customers staying at Heavenly Paradise official hotels and inns Tickets can be reserved at hotels and inns. Please make reservations directly with the affiliated hotels and inns.
[Image 7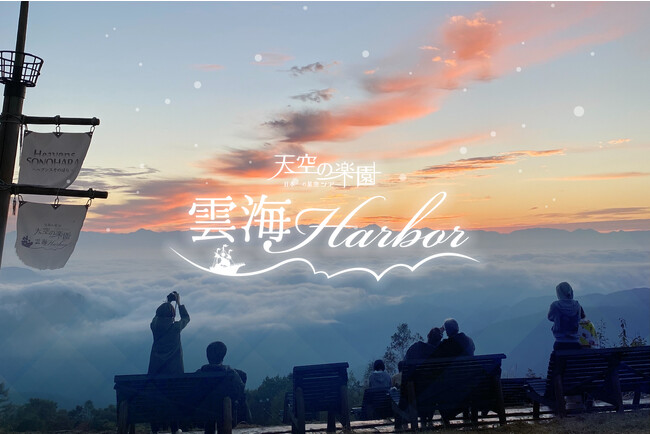 "Paradise in the Sky Unkai Harbor" information
■Event period
October 7th (Sat) – November 5th (Sun), 2023
■Business hours
Gondola operating hours
Up 5:00-7:00
Downhill ~ 16:00
Observation deck lift operating hours
5:15-15:30
■Fees
Adults 3,600 yen, Children 1,800 yen, Infants free
■Venue
Fujimidai Kogen Ropeway Heavens Sonohara
3731-4 Chisato, Achi Village, Shimoina District, Nagano Prefecture 395-0304 ■Parking lot
2000 units free
■Sponsored by
J Mountains Central Co., Ltd.
■Planning/cooperation
Achi Hirugami Tourism Bureau Co., Ltd. / Star Village Achi Tourist Promotion Council
■Contact us
Fujimidai Kogen Ropeway Heavens Sonohara 0265-44-2311
■Official website
https://sva.jp/
[Image 8
https://www.toei-anim.co.jp/tv/precure/
A major incident occurs in peaceful [Skyland]!?
The young princess [El-chan] has been kidnapped by a monster from the Underg Empire!
A brave girl [Sora] follows the princess to a mysterious hole. What lies ahead is connected to another world, Solashid City…!? "TV"? "Car"!? Is that a magic tool!?!?
But I don't have time to be surprised! I have to get the princess back to the castle soon…!
Fly between two worlds! Precure's adventure begins now!
"It's the hero's turn!"
(C)ABC-A/Toei Animation
[Image 9
Achi Village, Nagano Prefecture
It is a quiet mountain village located at the southern tip of Nagano Prefecture, known for Hirugami Onsen and Hanamomo no Sato. Hirugami Onsen, which first sprang up in 1972, is an "alkaline simple sulfur spring" with a pH of 9.7, and its smooth, smooth water is like bathing in warm lotion. It is also called the "hot spring for beautiful skin" because it leaves your skin smooth and smooth. In addition, it was certified as the number one place for stargazing (2006) in the nationwide continuous stargazing observation conducted by the Ministry of the Environment. The Star Village Achi Tourist Promotion Council was established in 2012 with the aim of leveraging this "Japan's best starry sky" to revitalize the region and revitalize tourism, and to attract more visitors.
Since August 2012, we have been holding the "Paradise in the Sky – Japan's Best Starry Sky Night Tour". From October 2014, we have been holding the "Sea of ​​Clouds & Starry Sky – Paradise in the Sky – Unkai Harbor". The "Paradise in the Sky Winter Night Tour" has been held since December 2016. By the end of March 2023, more than 1 million people have visited the event.
◆Achi Hirugami Tourism Bureau Co., Ltd. website
http://hirugamionsen.jp/
◆Star Village Achi Customer Attraction Promotion Council WEB site
http://info.sva.jp/
More details about this release:
https://prtimes.jp/main/html/rd/p/000000202.000018496.html

MAIL:cr@prtimes.co.jp
Copyright (c) PR TIMES Corporation. All Rights Reserved.