Yamanashi Prefecture Drive regional vitality with the power of art! Yamanashi Prefectural Museum of Art begins new value creation
Yamanashi Prefecture
Driving regional vitality through the power of art! Yamanashi Prefectural Museum of Art begins new value creation
Yamanashi Prefecture exhibits NFT art as a hometown tax return gift for the first time!
…………………………………………………………………………………………………
The first item is NFT art by Kazuki Takakura, a contemporary artist from the prefecture. A workshop on the latest VR technology will also be held. Please pay attention to the new value creation at the Yamanashi Prefectural Museum of Art.
Yamanashi Prefecture (Governor: Kotaro Nagasaki) formulated a vision in June of this year with the aim of making the Yamanashi Prefectural Museum of Art a hub for creating new value*.
*New value: "social and economic richness" in addition to the cultural richness that the prefectural museum of art has traditionally had.
As part of this new value creation, the prefecture will use content created by contemporary artists who have been involved in prefectural projects as return gifts for hometown tax payments, and will use these donations to promote culture and the arts, including museum
activities, and to artists in a wide range of fields. The funds will be used for support and development.
[Image 1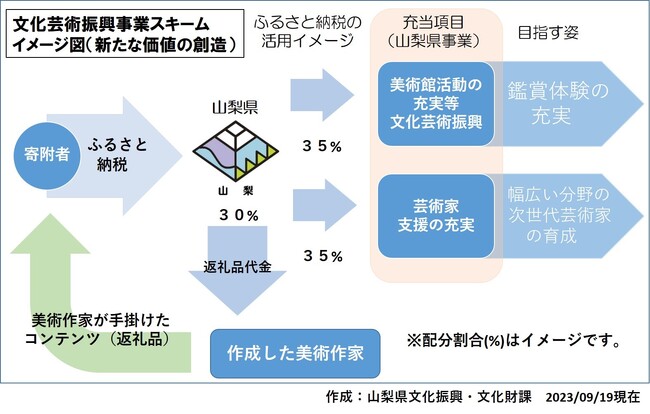 The first return gift is a set of NFT art and a painting by Kazuki Takakura, a contemporary artist from this prefecture who participated in the exhibition project "LABONCHI *vol.1″ held at the Prefectural Museum of Art. We will be exhibiting.
This return gift was created based on the content of Mr. Takakura's work exhibition "Mecharial Exhibition", with the motif of Dosojin, who is connected to Yamanashi Prefecture.
*"LABONCHI"…A project series that explores the possibilities of the Prefectural Museum of Art.
The distribution of this return gift will be carried out by Yumemi Co., Ltd. (Representative Director: Toshiyuki Kataoka), a digital services business development support and consulting company, and information on handling hometown tax payments will be accepted on the Satofuru website.
Return gift "NFT Dosojin (Mechanial)"
Contents:
1 painting (15cm square) + 1 NFT art
Production: Contemporary artist Kazuki Takakura Cooperation: San-M Color Co., Ltd.
Reception period:
From Friday, October 13, 2020
Donation amount:
80,000 yen *Those residing within the prefecture cannot receive return gifts. Number of recruitment:
50 items
[Image 2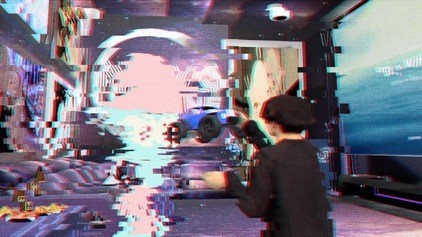 Yuuki Honma
artist. His work focuses on the social nature of virtual spaces such as the Internet and social VR. In 2023, he won the Excellence Award at the Yamanashi Media Arts Awards 2022 for his video work "Chronicle of a void", which was shot using VRChat using an interview method. *The image is the 2022 Excellence Award winning work "Chronicle of a void". Virtual Moments Capture – VR Workshop – Enjoy the Metaverse with your camera! Contents:
Walk around a virtual reality space called "VRChat". In virtual space, everyone looks different than usual, but parts of familiar cities may also be recreated there. This time, we will take a virtual camera to this mysterious world and conduct a photography workshop. What kind of photos and videos will be displayed on the camera? Through virtual space, we will explore new possibilities for recording and image expression.
Implementation date:
Saturday, October 28, 2020, Sunday, October 29, 2020 *Contents are the same on both days. Please choose a day that is convenient for you. venue:
Prefectural Museum of Art Studio/Workshop Room (tentative)
Number of people recruiting:
Approximately 10 people each time (first-come-first-served basis; closing as soon as capacity is reached)
subject:
Junior high school students and above
Entry fee :
free
How to apply:
[Deadline] October 26, 2020 (Thursday) 15:00
Please fill in the necessary information on this special application form and apply.
→https://docs.google.com/forms/d/e/1FAIpQLSeQnFPSlmk8IwyoHdAtEczOqPNxaYzZV2peTTbr0UEERlRAmw/viewform For more information on the Yamanashi Media Arts Award 2023, please see here. →https://y-artaward.jp/
The Prefectural Museum of Art will continue to explore new
possibilities through a variety of projects based on our vision: "An art museum that continues to be needed by society, growing together, creating new value, and contributing to improving regional vitality." More details about this release:
https://prtimes.jp/main/html/rd/p/000000186.000078927.html

MAIL:cr@prtimes.co.jp
Copyright (c) PR TIMES Corporation. All Rights Reserved.