CTW Co., Ltd. The first game of the anime "BLACK LAGOON"! "BLACK LAGOON Heaven's Shot" Pre-registration st arts at G123!
CTW Co., Ltd.
The first game of the anime "BLACK LAGOON"! "BLACK LAGOON Heaven's Shot" Pre-registration starts at G123!
The blockbuster series, which has sold over 8.5 million copies, is now available as a browser game!
…………………………………………………………………………………………………
CTW Co., Ltd. is pleased to announce "BLACK LAGOON Heaven's Shot" as the latest game for G123. In addition, we will start pre-registration from today.
■A hard-boiled RPG played by cool villains!
[Image 1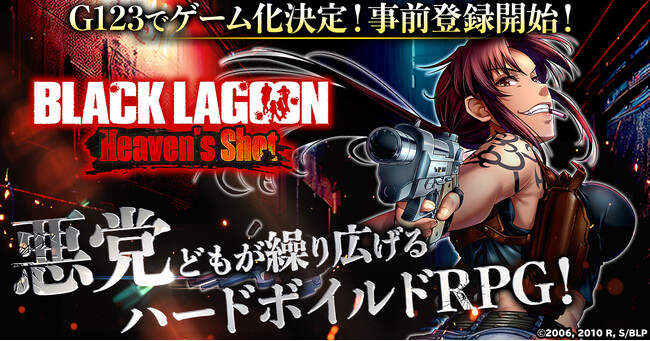 "BLACK LAGOON Heaven's Shot" is an RPG based on the TV anime "BLACK LAGOON". It has been decided that the first game of the TV anime "BLACK LAGOON" will be distributed on the game service "G123". This work is a browser game that you can enjoy anytime and anywhere on your favorite devices such as smartphones, PCs, and tablets. ■A new story begins in Roanapura!
[Image 2
The protagonist, an adventurer, meets Levi and Locke after getting involved in a certain incident. Battles are automatic, and game items can be accumulated even when the game is idle, so even busy people can enjoy it easily. ■Pre-registration campaign starts today!
[Image 3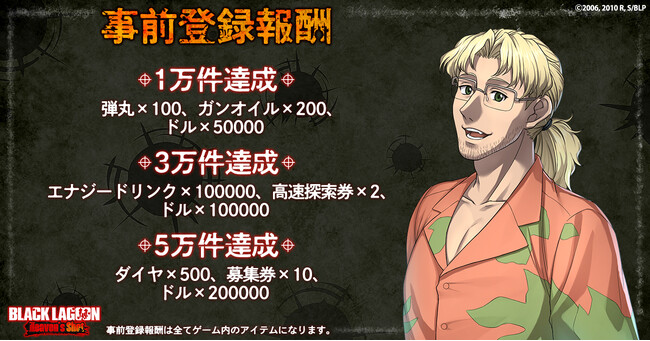 Pre-registration is accepted through the following methods. 1. Register on the official game page: https://s.g123.jp/2xf60vs42. Register by following Official X (Twitter):
https://x.com/BLACK_LAGOON_HS3. Register by adding friends on official LINE: https ://lin.ee/Wv1fjzM8/gmel Depending on the number of participants in the campaign, everyone will receive luxurious items at the start of the service. 10,000 items: Bullet x 100, Gun Oil x 200, Dollars x 5,000,003 million items: Energy drink x 100,000, High-speed search ticket x 2, Dollars x 1,000,005 million items: Diamond x 500, Recruitment ticket x 10, Dollars x 200,000 ■You Who will you team up with? Many anime characters appear!
[Image 4
To commemorate the decision to make it into a game, we will be holding a "game character prediction campaign" for 5 consecutive weeks on X (Twitter). Those who follow the official account and repost character silhouette posts will be randomly selected to win an Amazon gift card worth 10,000 yen. Every week, we will reveal the characters that will appear in the game at the end of the campaign, so be sure to check back. ■Game basic information Game title: BLACK LAGOON Heaven's Shot Genre: RPG Price: Basic free (in-game item purchase system) ■"BLACK LAGOON" work information – What is BLACK LAGOON? Published as a one-shot in the April issue of Sunday GX, 2001. A year later, in 2002, it was officially serialized and made into an anime, and today the original work has become a huge hit with cumulative sales exceeding 8.5 million copies. The hard gun action manga, whose main characters are made up of cool villains, celebrated its 20th anniversary in 2021.・Synopsis: Enro Okajima, an employee of the Japanese trading company Asahi Heavy Industries, is kidnapped by illegal courier Lagoon Shokai in the South China Sea while transporting the company's confidential disks. Okajima learns that he has been abandoned by his company and decides to cooperate with the members of Lagoon Shokai. In this way, Rock, also known as Okajima, becomes an apprentice sailor at the Lagoon Company, and each time he completes a job, he becomes more and more a villain. Stylish and hard-boiled gun action between villains set in the city of vice, Roanapura! ■What is G123? This is a game service that allows you to enjoy carefully selected high-quality games on the web browser of your smartphone, tablet, or computer, without the need to download or register. Official website:
https://g123.jp/ ■About CTW Co., Ltd. A comprehensive internet platform service company that operates the game platform "G123". Company name: CTW Co., Ltd. Location: 1-9-10 Roppongi, Minato-ku, Tokyo 106-0032 Ark Hills Sengokuyama Mori Tower Representative: Ryuichi Sasaki Establishment: August 2013 Capital: 100 million yen Business details: Platform business URL: https://ctw.inc/(C)2006, 2010 Rei Hiroe/Shogakukan/BLACK LAGOON Production Committee (C)CTW, INC. All rights reserved. *Other company names and product names listed are those of each company. is a registered trademark or trademark of.
More details about this release:
https://prtimes.jp/main/html/rd/p/000001228.000036635.html

MAIL:cr@prtimes.co.jp
Copyright (c) PR TIMES Corporation. All Rights Reserved.