Art-specific PR platform "MARPH" becomes globally compatible. Starts Japanese-English bilingual support, all owing overseas artists to participate

Art-specific PR platform "MARPH" becomes globally compatible. Starts Japanese-English bilingual support, allowing overseas artists to participate
The first artist is Tom Sachs, who is based in New York and is active internationally. Information on "Tom Sachs: Store Experience" to be held at Isetan Shinjuku store from September 20th will be available for viewing.
…………………………………………………………………………………………………
(Minato-ku, Tokyo, Representative Director: Takumi , TSE Prime: 3922), which operates the press release distribution service "PR TIMES", announced on Tuesday, September 19, 2023, that it will operate an art specialized service. The beta version of the online PR platform "MARPH" has been updated to allow overseas artists to participate, and the site can now be displayed in Japanese and English bilingual.
From this winter to next spring, we are planning an update that will allow overseas galleries to participate, accelerating the global expansion of MARPH.
[Image 1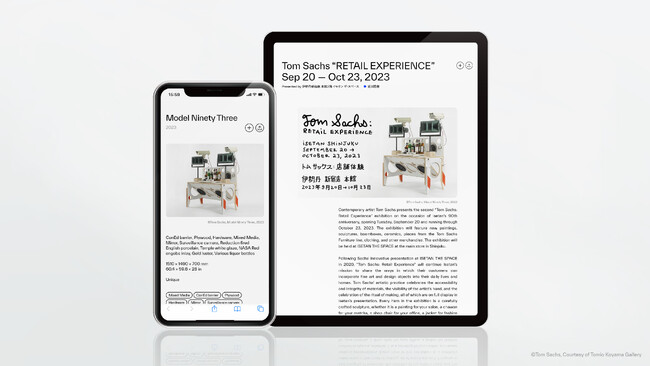 MARPH "Tom Sachs: Store Experience" exhibition page
https://marph.com/exhibitions/E-b5c98d32-4ec8-4221-a017-1186b70521bf-64ec4d30178192.01166237 Information from overseas artists is also more accessible at MARPH. MARPH Support for overseas artists
[Image 2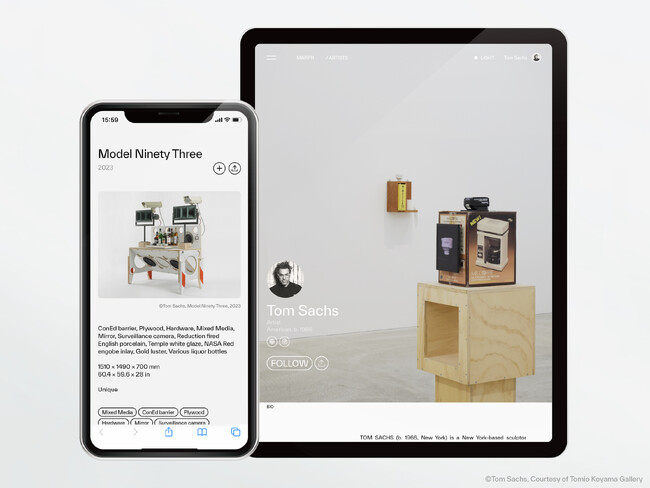 MARPH, an online PR platform specializing in art, is now bilingual in Japanese and English, and a function for overseas artists to participate has been added. The first person to utilize this feature is New York-based contemporary artist Tom Sachs
(https://marph.com/artists/tomsachs). An exhibition page for "Tom Sachs: Store Experience", which will be held at ISETAN THE SPACE on the 2nd floor of Shinjuku Isetan store from September 20th (Wednesday) to October 23rd (Monday), will be opened on MARPH and will be displayed at the venue. Some of the works will be available for viewing on MARPH (they will not be sold. All sales can be made at the Isetan Shinjuku store). In addition, some of the works from past exhibitions such as "Tea Ceremony" held at Tokyo Opera City Art Gallery in 2019 and "Smutshow" and "Chawan" held at Tomio Koyama Gallery are available on MARPH. archive view is possible.
[Image 3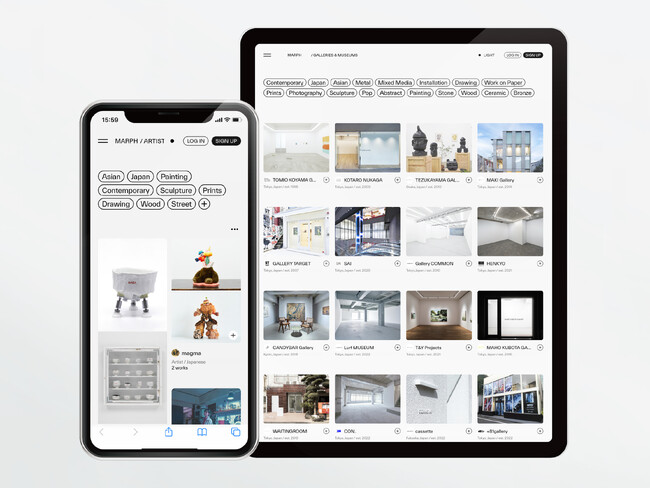 -About the art-specific online PR platform "MARPH"-
[Image 4
https://marph.com Since the beta version was launched in June 2022, approximately 100 artists and 30 galleries in Japan have participated, and approximately 50 press releases have been distributed. With this support for overseas artist accounts and bilingual support, from next year onwards we will be more globally conscious and develop the service as an art press release platform that is supported globally.
Art content appears on the top of the PR TIMES site. Collaboration between MARPH and PR TIMES begins
[Image 5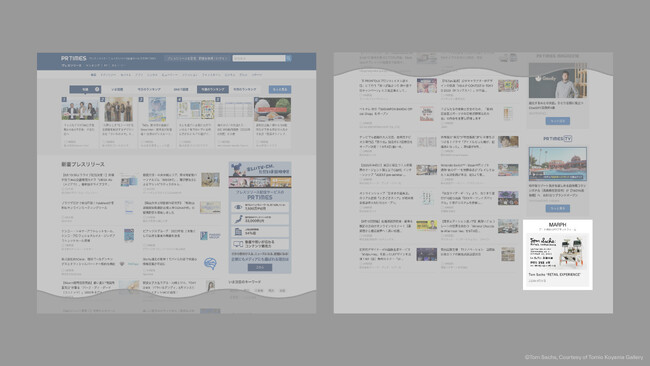 We have opened a link to the art information published in "MARPH" on the top page of the press release distribution service "PR TIMES" site. As a result, you will be able to access press releases from artists and galleries published on "MARPH" from the newly established banner link in the area on the right side of the "PR TIMES" site. "PR TIMES" distributes press releases for media outlets to media reporters, and also posts them on "PR TIMES" and partner media, where they are viewed and shared by consumers. The number of companies using it exceeds 83,000, and it is used by over 54% of domestic listed companies. More than 25,000 media reporters have registered as members to collect information, the site receives approximately 75 million page views per month, and the cumulative number of distributed press releases exceeds 1 million. ("PR TIMES": https://prtimes.jp/) By linking the content of "MARPH" to "PR TIMES", which is visited by many media and consumers, people who are interested in art-related information will be interested in "MARPH". We hope that more people will visit.
About
[Image 6
https://prtimes.jp/) – Story distribution service "PR TIMES STORY" (
https://prtimes.jp/
) story/) – Implementation of public relations and PR support as a partner between clients and media – Operation of video PR services "PR TIMES TV" and "PR TIMES LIVE" (
https://prtimes.jp/tv
) – Art specialized type Operation of online PR platform "MARPH" (
https://marph.com/
) – Operation of customer support tool "Tayori" (
https://tayori.com/
) – Task/project management tool "Jooto" (https://
www.jooto.com/
) – Management of PR TIMES MAGAZINE (
https://prtimes.jp/magazine/
), a media that delivers PR knowledge – Web news media management, etc.URL:
https://prtimes
.co.jp/
More details about this release:
https://prtimes.jp/main/html/rd/p/000001337.000000112.html
MAIL:cr@prtimes.co.jp
Copyright (c) PR TIMES Corporation. All Rights Reserved.
The event AKARENGA 100th Fes DAY&NIGHT commemorating the 100th anniversary of the Chikko Red Brick Warehouse in Osaka will be held at the classic car museum GLION MUSEUM on Sunday, October 1, 2023.