Kodansha Co., Ltd. From Japan to India! A new large-scale manga project "Ima, India Byte" will be distribu ted on "Palcy" from September 20th! !
Kodansha Co., Ltd.
From Japan to India! A new large-scale manga project "Ima, India Byte" will be distributed on "Palcy" from September 20th! !
A popular variety show on commercial TV will accompany you to the site! Comics will also be distributed locally in India!
…………………………………………………………………………………………………
Will your life change if you go to India?︎ Natsume, a bold manga artist, blows away her troubled life in India, a mysterious and exciting country!
A new large-scale manga project "Ima, India Called" (author Terako Shima) is set in India, a country that is currently being talked about.
Distribution will begin on Kodansha's manga app "Palcy" from September 20th. [Image 1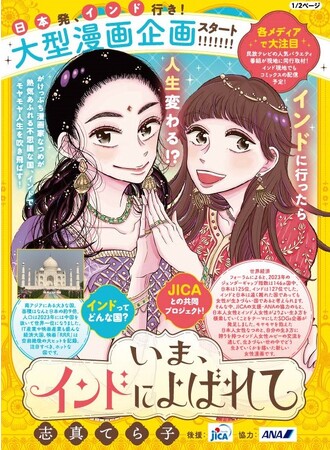 ●Joint project with JICA (Japan International Cooperation Agency) India is a large country in South Asia. The area is approximately 9 times that of Japan.
By 2023, the country will overtake China and become the world's most populous country.
It is an economic powerhouse with thriving IT and film industries. The movie "RRR" became an unprecedented hit.
It's a hot country that deserves attention.
According to the World Economic Forum, Japan was ranked 125th out of 146 countries in terms of gender gap index in 2023, and India was ranked 127th.
Even though India and Japan are far apart, they can be considered difficult countries for women to live in.
Meanwhile, with support from JICA and cooperation from ANA (All Nippon Airways), an SDGs project was launched with the theme of helping Japanese and Indian women search for a better way of life.
This is a women's manga that depicts how to live in a difficult world through the interaction between Natsume, a Japanese woman who is feeling anxious, and Ruby, an Indian woman who is proud of her way of life.
[Synopsis]
Natsume Kanazawa (28 years old) has been a manga artist for 5 years. I made my debut, but it didn't go very well.
One day, my boyfriend Jin, who I was living with, grabbed my hand and said, "I want you to come to India with me on the assumption that we're going to get married."
(We should be doing well)
But I'm confused by the unconscious moral harassment!!
"Your job is part-time, right?"
"Natsume can't pay the rent here."
"Once we get married, Natsume will do the housework, right?" Why is woman = housework!!!
Then, in a foreign land, India, Natsume met a girl.
Although she is cheerful about her work, in India it is normal for women to quit their jobs after getting married.
She looked somewhat regretful as she muttered that.
Is there no "me" in this heat in Japan or India?
Although we have different countries, languages, and cultures, we may have the same problems…
And so Natsume finds a new life.
[Image 2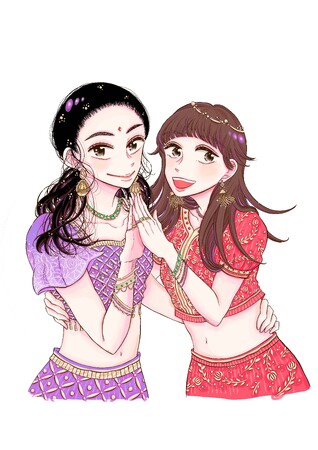 [Author profile]
Author: Shima Terako (Shima Terako)
In 2017, she won the Tomoko Ninomiya Award and the Hatsukis Award at the 2nd Adult Girls' Manga Awards for "Babyun and her boyfriend". The same work was published in the July 2017 issue of "Hatsukiss" (Kodansha) and made its debut.
Other works include "That Girl Who Came to Tokyo" and "Ambiguous Kankei," which drew a great response by portraying the relationship between a man and a woman without a name.
There is a comic adaptation of Toriko Yoshikawa's highly acclaimed novel, "One Year to Live, Laughing a Man."
●Work information
"Now, I'm being sent to India."
Author: Terako Shima
Distribution will begin on Kodansha Co., Ltd.'s manga app "Parcy" from September 20th.
Scheduled to be updated on the third Wednesday of every month https://palcy.jp/
More details about this release:
https://prtimes.jp/main/html/rd/p/000005458.000001719.html

MAIL:cr@prtimes.co.jp
Copyright (c) PR TIMES Corporation. All Rights Reserved.