Announcement of release of VR tennis game "CYBER TENNIS" for PICO 4
Technical Arts Co., Ltd.
Announcement of release of VR tennis game "CYBER TENNIS" for PICO 4 Dive into VR space and enjoy authentic tennis on a tennis court the same size as real life!
…………………………………………………………………………………………………
CYBER TENNIS, a VR tennis game currently on sale on many VR platforms, will be released for PICO 4. PICO 4's high-resolution, beautiful screen rendering has achieved a level of image quality that is a step above that of conventional portable VR headsets. You can play authentic tennis in a big stadium with over 20,000 spectators watching. Supports many customization functions and online battles. A must-have game for tennis fans.
[Image 1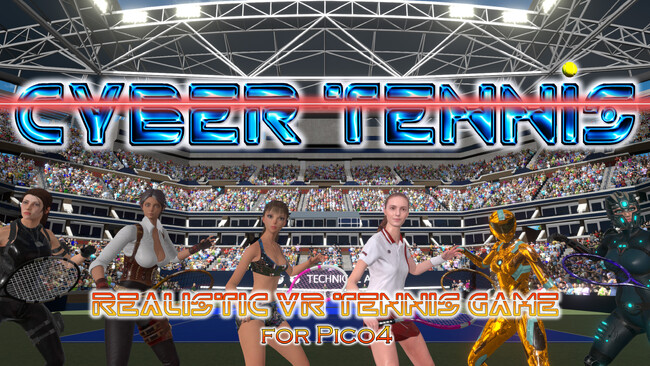 [Video 2: https://prtimes.jp/api/movieim.php?url=www.youtube.com/watch?v=N2PY6d3d9Nw] Technical Arts Co., Ltd. (Headquarters: Chiyoda-ku, Tokyo, President: Kohei Ikeda, hereinafter referred to as Technical Arts) will distribute the VR tennis game "CYBER TENNIS" for the PICO 4 platform on the PICO Store from September 21, 2023. We will start. ■About this work
"CYBER TENNIS" is a game where you can enjoy authentic tennis in a VR space compatible with PICO 4. Players play on a real-sized tennis court in VR space. You can have the same experience as the world's top players, playing surrounded by over 20,000 spectators in a stadium modeled after the big stadiums where World Tour events are held. [Image 2
This work is available in 10 languages: Chinese (simplified and traditional), Korean, French, Italian, German, Spanish, and Russian, in addition to Japanese and English, so that people from many regions can enjoy it. It corresponds to.
[Screenshot] A fantastic court inspired by the beautiful scenery of Kyoto ■Game features
[Image 4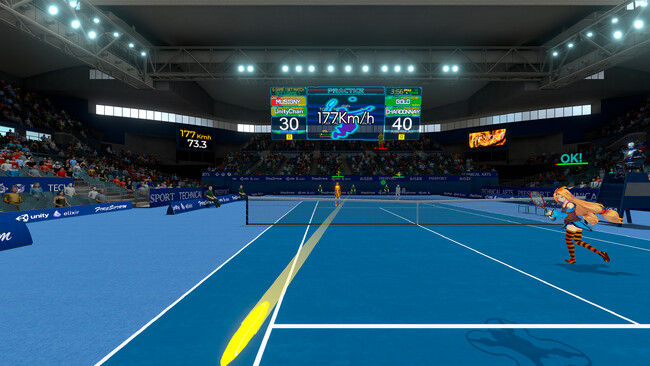 ★ Enjoy a variety of gameplay such as training, practice matches, tour matches, and online matches. It also supports doubles games. ★Supports cross-play, cross-save, and cross-match with other platforms (Meta Quest, Rift, SteamVR). It is possible to play against different machines and transfer save data. (App must be purchased separately) ★By analyzing the movement of the controller with AI, you can hit various types of pitches such as flat, topspin, slice, lob, and smash. You can also learn your own swing and improve the accuracy of swing type determination. You will be able to hit the type of pitch you want even with a quirky swing.
★In order to be able to play with simple operations, there is a mode where you hit the ball with just the trigger operation, and a fully automatic shot mode where the ball is automatically hit in the direction you are looking.
★Using unique technology, we recreate over 20,000 individually animated spectators, allowing you to experience playing in a realistic tennis stadium unlike any other game before.
★You can play against other players over the Internet. Network battles can be played with almost no communication delay thanks to our proprietary algorithm that eliminates delays.
★In addition to your own character, you can develop a partner character controlled by the computer. You can increase the number of partners by completing missions.
★You can play on 10 types of courts, including realistic stadiums such as Wimbledon, Melbourne, Hamburg, and New York, and 38 player characters. We plan to add coats and characters in updates.
[Image 5
1) Player data will be saved on the server, so first register your player name and passcode. Player data stored on the server can be loaded and played on other platforms and devices.
2) Next, select your dominant arm, movement and swing method. You can choose between automatic and manual movement. Manual movement is for advanced players, but allows you to play the game the way you want. 3) Select from several options to create the player's avatar character that will be visible to the opponent.
★Partner selection
[Image 7
1) Run the tutorial to learn all operations such as serve and receive. 2) Tutorials can be skipped. You can also run it later.
3) In training, the format is similar to the tutorial, but your score is recorded based on things like the number of cans you knock over. Your training score will be posted on the ranking, so you can enjoy training while aiming for a high score.
★Practice match
[Image 9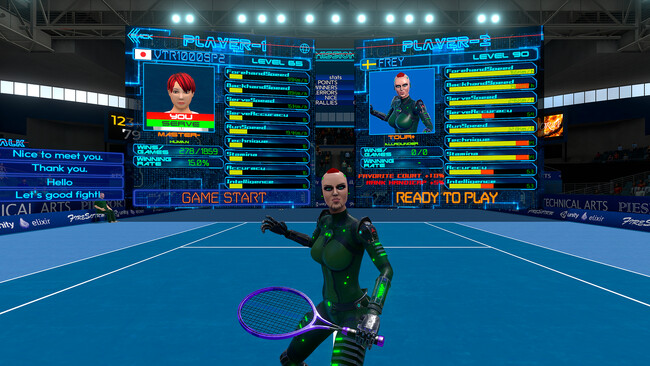 1) Set the court, number of games, etc., and have a practice match with your partner character.
2) There are only a few courts to choose from at the beginning, but as you progress through the tour, the number of courts you can choose from for practice matches will increase.
3) You can raise your and your partner's level by playing practice games. ★Tour season match
[Image 10
[Image 12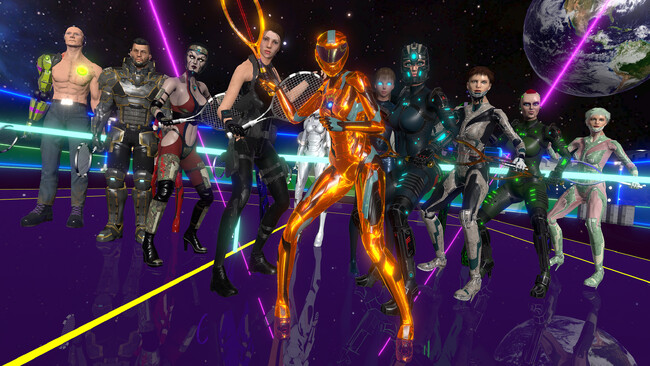 ■Technical Arts' unique technology used in this work
Analyze the player's swing using neural network AI and instantly determine the type of pitch.
Thanks to an algorithm that eliminates communication delays during online battles, you can play without experiencing any delays even in distant locations such as Japan and North America.
Our extremely low-load crowd rendering technology enables individually animated crowds of over 20,000 people even with the lowest CPU/GPU requirements.
We added full-screen reflections to the water surface simulation using wave equations, and incorporated expressions of lake surface reflections that are difficult to achieve on mobile devices. Our unique localization tool that incorporates an automatic
translation system allows us to support many languages ​​at low cost. We plan to increase the number of supported languages ​​in the future if there is demand.
■Game overview
Title: CYBER TENNIS Sales format: Sold at PICO Store Sales price: $14.99 (approximately 2,200 yen) Supported languages: English, Japanese, Chinese (simplified, traditional), Korean, French, Italian, German, Spanish, Russian Distribution start date: September 21, 2023 Target models: PICO 4 and models that are upwardly compatible with PICO 4 Planning, development, and operation: Technical Arts Co., Ltd. https://www.techarts .co.jp Contact: godai@techarts.co.jp To Ikeda [Official website] https://cybertennis.jp [Official support
(Facebook)] https://www.facebook.com/cybertennis.team/ Public relations materials] https://cybertennis.jp/pub/ [Promotional video] https://youtu.be/N2PY6d3d9Nw
[Screenshot] https://www.cybertennis.jp/ss.html
■About the developer Technical Arts
Our company has been developing games for over 37 years since our founding in 1987. We are involved in contract development and research and development for major game manufacturers. Representative Ikeda has been involved in game development since the early 1980s at ASCII Co., Ltd. and Game Arts Co., Ltd., and his representative works include "Tegzer" and "Sylpheed."
If you are interested in the technology used in this game, please contact our company Ikeda. Our company undertakes contract development for a wide range of games, from indie games to AAA titles. We especially have a lot of know-how on VR projects, so please feel free to contact us. Technical Arts: https://www.techarts.co.jp *"project PEACE PORT" is the name of a team of game creators centered on technical arts. * Oculus Rift and Meta Ouest are trademarks or registered trademarks of Meta Platforms, Inc. in the United States and other countries. * PICO 4 is a trademark of PICO Technology Co., Ltd. * "Tegzer" and "Sylpheed" are trademarks of Game Arts Co., Ltd. More details about this release:
https://prtimes.jp/main/html/rd/p/000000004.000074432.html

MAIL:cr@prtimes.co.jp
Copyright (c) PR TIMES Corporation. All Rights Reserved.