A.I. Co., Ltd. Announcement of production decision for "A.I.VOICE SPECIAL BOOK 2024"
AI Co., Ltd.
Notice of production decision for "A.I.VOICE SPECIAL BOOK 2024" …………………………………………………………………………………………………
A.I. Co., Ltd. (Headquarters: Bunkyo-ku, Tokyo, President and CEO: Shinichi Hirohan, Stock code: 4388, hereafter: A.I.), which develops and provides the high-quality speech synthesis engine AITalk(R), is a brand for individuals, "A.I.VOICE( We would like to inform you that KADOKAWA Co., Ltd. (Headquarters: Chiyoda-ku, Tokyo, Director, Representative Executive Officer, President and CEO: Tsuyoshi Natsuno) has decided to produce the first special mook for "R)". In addition, to commemorate the production decision, we have decided to hold an illustration festival using X (Twitter) from November 1st to November 15th, 2023.
[Image 1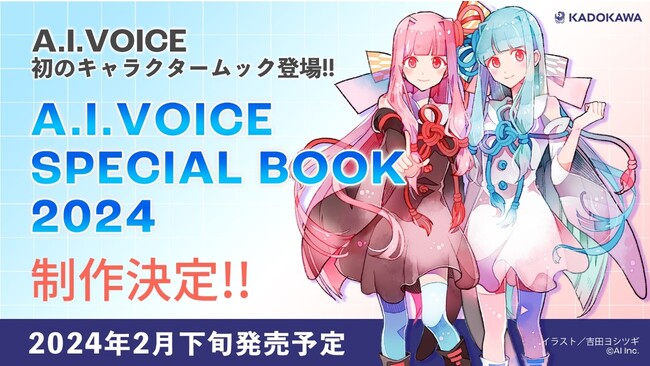 Bibliographic details
A special mook featuring characters from "A.I.VOICE(R)" including Akane Kotoha and Aoi. In addition to introducing each character, it also includes information on the worldview and settings associated with the characters. It will also include staff interviews and a user-participatory illustration project commemorating the production of Mook. The bonus comes with a standing picture material of "Suino Seikoon".
・Title: A.I.VOICE SPECIAL BOOK 2024
・Release date: Scheduled for late February 2024
・Format: A4 full color
・Preliminary price: 2,750 yen (2,500 yen + tax)
・Publisher: KADOKAWA Co., Ltd.
Serial code bonus comes with "Funo Seikoon" standing picture material! A serial code will be included in "A.I.VOICE SPECIAL BOOK 2024", and those who purchase the mook will receive a standing picture material of "Suino Seikoon" that can be used in videos etc.
*Please use standing picture materials according to the character usage guidelines of "Suino Seikoon".
An "Illustration Submission Festival" will be held to commemorate the production of Mook!
[Image 2
https://gs-ch.com/articles/information/arx2f33vMFP9gsvcBPTQNVze Work regulations
・Creation method: Either digital or analog is possible. In the case of analog, three-dimensional works are no good.
・A4 size (200dpi) or higher recommended
*Please create your work in a size that is designed to be published in a magazine.
*When posting to X (Twitter), you may convert to RGB color or lower the resolution.
・Available characters: Only characters released as "A.I.VOICE" during the illustration festival period [The following works cannot be applied]
・Works using characters other than "A.I.VOICE"
・Works that infringe on the rights/interests of third parties (including parodies and imitations)
・Works that slander/slander specific individuals/groups
・Works that violate public order and morals, including obscenity, cruelty, discrimination, etc.
・Works using illustration generation AI
・Works that you did not create yourself
・Works created in the past for official requests/commercial purposes Application period
November 1, 2023 0:00 to November 15, 2023 23:59
Selection
A.I.VOICE Illustration Festival Management Office
cooperation
・Internet Co., Ltd.
・AI Co., Ltd.
・VOCALOMAKETS (operated by Bumpy Factory Co., Ltd.)
・MUGEN Co., Ltd.
・Kisaragian LLC
・Lace Noae LLC
・SPROCAT
・Kotoe Tange project
・VirVox Project
・Yamaha Corporation
・Unity Technologies Japan Co., Ltd.
・Rear production
(in alphabetical order, titles omitted)
Application method
STEP1
Follow "Dengeki G's magazine editorial department" official account "@gs_magazine" on X (Twitter)
STEP2
Check the notes
STEP3
Post your entry with the hashtags "#AiboSirafes" and "#Character name" STEP4
Application completed!
example)
[Image 3
https://avoice.jp/#cont
KADOKAWA Co., Ltd. Company Profile
KADOKAWA is a comprehensive entertainment company that operates a wide range of businesses including publishing, video, games, web services, education, merchandising, and inbound-related businesses. By promoting digital transformation including ABW (Activity Based Working), we will focus on the stable creation of IP (Intellectual Property) and global expansion.
Implementing the "Global Media Mix" strategy.
[Image 4
https://www.kadokawa.co.jp/
More details about this release:
https://prtimes.jp/main/html/rd/p/000000046.000099620.html
MAIL:cr@prtimes.co.jp
Copyright (c) PR TIMES Corporation. All Rights Reserved.
MUGENUP MUGEN FACTORY's "Too Poor, Gathering Ingredients in the Dungeon" now available on LINE Manga!